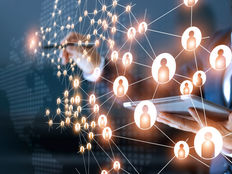 Due to the proliferation of internet companies and related investments, many market participants got acquainted with the benefits of allocating capital to firms with network effects.
In simple terms, the network effect is a scenario in which a product or service adds value as more people use it. Real world examples include the early days of internet search firms such as Google and social media giants such as Facebook and Twitter. Those platforms added value in exponential fashion as more users came aboard.
While stock picking along the lines of network effects can be tricky for many investors, exchange traded funds such as the (QQQ B+) and the (QQQM B) allay those concerns. In fact, QQQ and QQQM are chock full of companies with strong network effects. The Invesco ETFs are relevant to investors seeking network effect benefits because that concept remains exceedingly pertinent today.
"These days, the success of many brands depends on having a critical mass of users to connect and engage with the brand, whether it's via a social media app or a marketplace of buyers and sellers. In fact, about 70% of global tech equity value is derived from companies relying on network effects, according to research by NFX, a venture firm focused on pre-seed and seed stage startups," noted Morgan Stanley.
For novice investors, it's worth pointing out that the potency of network effects isn't limited by industry or sector. However, there is a steady diet of companies with impressive network effect credentials in the technology and communication services sectors, which combine for over two-thirds of the QQQ and QQQM portfolios.
Due to the rapid expansion e-commerce and online retail, consumer discretionary, which accounts for 15% of the ETFs' rosters', is another compelling network effect space.
"The accelerated use of digital communication services across different sectors and businesses, plus the recognition by companies and investors of the value of network effects, have been the key drivers behind the increasing pervasiveness of this strategy," added Morgan Stanley.
Among the QQQ and QQQM member firms with durable network effects are Apple (NASDAQ: AAPL), Google parent Alphabet (NASDAQ: GOOG), Facebook parent Meta Platforms (NASDAQ: META), Amazon (NASDAQ: AMZN), Netflix (NASDAQ: NFLX), and Airbnb (NASDAQ:ABNB), among others. That group combines for nearly 30% of the ETFs' rosters.
"Some drawbacks to basing a business model on network effects include the resources required to enable them, and the fact companies relying on them face either reaching critical mass or remaining subscale," concluded Morgan Stanley.
Fortunately, some of the companies mentioned above have shown network effect flexibility and the ability to keep competition at bay.
For more news, information, and analysis, visit the ETF Education Channel.