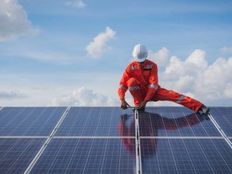 Solar stocks are shining in the early innings of 2023. Just look at the (TAN C+), which is higher by more than 7% since the start of the year.
Impressive to be sure, but dedicated industry exchange traded funds such as TAN may not be appropriate for all investors. Still, some of those market participants may want some exposure to the renewable energy revolution in their portfolios.
Broader ETFs such as the (QQJG C+) can help split the difference. QQJG isn't a dedicated clean tech or renewable energy fund, but it does feature an environmental, social, and governance (ESG) overlay. As such, some of its 95 holdings are direct and indirect clean energy plays. That group includes First Solar (NASDAQ: FSLR).
The solar giant accounts for nearly 2% of QQJG's portfolio and is a top 10 holding in the fund — relevant factoids at a time when the stock is rallying and analysts are bullish on the name as a beneficiary of the Inflation Reduction Act.
Shares of First Solar surged 6% last Friday, capping a staggering weekly gain of 29.57%, after UBS analyst Jon Windham upgraded the solar stock to buy from neutral and raised his price target by $110 to $250. That implies significant upside from the March 3 close of $210.11.
"We upgrade shares of FSLR from Neutral to Buy and within our coverage see FSLR as the most significant beneficiary of the Inflation Reduction Act," he said in a note to clients.
Within the Inflation Reduction Act, developers are required to build more properties with solar power capabilities, potentially providing a long runway for growth for First Solar. They get tax credits to compel them to play ball.
"He said the tax credits would also mitigate prior concerns related to start-up and ramp-up costs diluting margins in 2023 and 2024 as the company increases its U.S. manufacturing presence. First Solar's U.S. production volume should more than double between 2023 and 2027, Windham said," reported Alex Harring for CNBC.
Citing the benefits of the Inflation Reduction Act, the analyst believed that First Solar can earn $7.54 per share this year, well ahead of his prior estimate of $5.33. He also forecast 2025 earnings per share of $25.93, up from an initial forecast of $21.90, for the QQJG component.
SolarEdge Technologies (NASDAQ: SEDG) is another QQJG component. That stock, which accounts for 1.11% of the ETF's weight, surged 10.35% last week and is higher by 15.38% year-to-date.
For more news, information, and analysis, visit the ETF Education Channel.