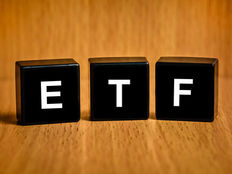 Since SPY's debut in 1993, Wall Street has witnessed the ETF industry expand rapidly over the last two decades. Now, individual and institutional investors alike have more than 1,600 products to choose from, ranging from plain-vanilla ETFs to funds that employ more complex strategies. The size and scope of the ETF industry has certainly expanded, but these seven charts put the industry in perspective.
The Rapid Growth of the ETF Industry
---
Content continues below advertisement
This chart is perhaps the most compelling on our list, showing how the ETF industry managed to expand nearly 2,000% over the past 13 years. Comparatively, the mutual fund industry–though much older than its ETF competition–has only increased its assets by just over 120% during the same time frame. Be sure to also check out our ETF Performance Visualizer.
Though the ETF industry has certainly come a long way, its size is still relatively small compared to the mutual fund industry. Total ETF assets under management currently amount to just over one-tenth of the total of mutual funds.
How ETFs Stack Up Against 401(k)s
401(k) plans hold an estimated $3.5 trillion in assets, roughly double that of the ETF industry. It is estimated that around 60% of 401(k) assets are held in mutual funds, though more and more plans have started investing in ETPs. In 2014, Charles Schwab also announced its all-ETF 401(k) plan – a trend that could pick up in the coming years.
ETFs vs U.S. Equity and Bond Markets
In the ETF space, the SPDR S&P 500 ETF (SPY A) is by far the largest and most popular fund, with assets totaling over $190 billion. SPY's size, however, is quite small when comparing the total assets benchmarked to the S&P 500 Index, and even smaller when comparing it to the total market capitalization of the index (note data as of 2/26/2015).
A similar observation can be made with the fixed income market. Currently, total assets under management in bond ETFs total over $960 billion (including leveraged and inverse funds); the total outstanding U.S. bond market debt amounts to over $37 trillion. To put the industry in further perspective, the popular Total Bond Market ETF (BND A) has assets totaling over $36 billion. Please note that data is as of 2/26/2015.
How Institutional Investors & Financial Advisors are Using ETFs
According to a survey conducted by Greenwich Associates, "Institutional investors continue to employ ETFs in more innovative ways. Institutions overall are now evenly divided in reporting their ETF use as strategic or tactical, with the most commonly-reported usage being passive exposure in core strategies." Furthermore, nearly half of the study participants stated they employ ETFs for portfolio completion and diversification.
When advisors were asked why they do not use exchange-traded products, the overwhelming majority stated that they simply "don't know enough about ETPs." A portion of the respondents also cited their preference for mutual funds over ETPs, while others stated that ETPs were not appropriate for their clients
Be sure to also read 101 ETF Lessons Every Financial Advisor Should Learn.
The Bottom Line
Though the exchange-traded fund industry has certainly come a long way since SPY's debut in 1993, putting the industry's size in perspective shows just how much the industry has yet to grow. With issuers continuing to fill the product pipelines, investors can expect more and more individual and institutional users to continue embracing the ETF wrapper.