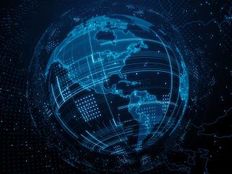 By Thomas A. Martin, CFA, Senior Portfolio Manager,
Mixed, still. 2022 is behind us now, and investors have a lovely tradition of feeling like they are starting each new year with a clean sheet of performance paper. The fundamentals of markets and economies, however, are continuous. The lay of the land remains mixed, and the bias, in the short term, remains to the negative. One thing that feels different this time around, is that the consensus, as we view it, is that the time horizon to better visibility, if not positivity, is sometime mid-year 2023, as opposed to the usual year end.
Mostly this is because there is a palpably increased confidence that the peak Fed rate is in sight. Two or three rate hikes away. A mere 50 to 75 basis points over the next three months or so, as opposed to the unexpectedly fast 425 basis point sprint we experienced the last nine months of last year. Sure, there was confidence all along the way that a pivot was imminent, but it is different now. There is more grounding from the journey. Perhaps less hope and more experience.
What do we know now, and think we'll know better in six months? For one thing, we know that equities are down, and interest rates are up. Some, if not all, of the damage has been done, and is incorporated to a degree in prices. We know that mortgage, credit card, and loan rates are up (along with credit standards), and that housing activity has cooled along with used car prices and rents. We know that supply chains are still disrupted, and inventories (generally) are still elevated, but both are improving. We know that the odds of some sort of recession are also elevated but not certain. We know the yield curve is inverted, many PMIs are below 50, and leading indicators have been declining. We know that the rate of inflation has begun to gently waft lower. We know earnings estimates for the S&P 500 for 2023 have been lowered a little over 8% since June of last year.
Geopolitical uncertainty remains a wildcard. That's shorthand for Russia/ Ukraine and China/Taiwan/Technology/COVID/Common Prosperity. But it is no longer brand new like it was last year. Nations, companies, and people have been resilient and have adjusted.
Optimism, however, is not rampant. There is still a lot of adjusting left to be done. Where inflation settles out, where employment lands, how much consumers retrench, how much further corporate earnings decline, and the Fed's rate path from here are key unknowns. We expect that visibility will be significantly better in the next six months, but for now there is reluctance to look through the bottom. Running in the background is that, although they have improved somewhat, valuations are still high by most measures. Almost nothing is cheap. That may be one reason why sentiment is still very negative across a number of disparate measures. That in itself is a positive, but it is not yet enough.
Investment positioning requires patience. We reiterate that when uncertainty is high and lopsided positioning can engender fast and significant volatility, it does not pay to guess. We believe the current environment is best addressed with cautious and conservative positioning and investing informed by meaningful weight of the evidence.
GLOBALT is an SEC Registered Investment Adviser since 1991 and, effective July 10, 2013, remains a Registered Investment Adviser through a separately identifiable division of Synovus Trust N.A., a nationally chartered trust company. This information has been prepared for educational purposes only, as general information and should not be considered a solicitation for the purchase or sale of any security. This does not constitute legal or professional advice, and is not tailored to the investment needs of any specific investor. Registration of an investment adviser does not imply any certain level of skill or training. Due to rapidly changing market conditions and the complexity of investment decisions, supplemental information may be required to make informed investment decisions, based on your individual investment objectives and suitability specifications. Investors should seek tailored advice and should understand that statements regarding future prospects of the financial market may not be realized, as past performance does not guarantee and/or is not indicative of future results. Content may not be reproduced, distributed, or transmitted in whole or in part by any means without written permission from GLOBALT. Regarding permission, as well as to receive a copy of GLOBALT's Form ADV Part 2 and Part 3, contact GLOBALT's Chief Compliance Officer, 3400 Overton Park Drive, Suite 200, Atlanta GA 30339.  You can obtain more information about GLOBALT Investments and its advisers via the Internet at adviserinfo.sec.gov, sponsored by the U.S. Securities and Exchange Commission.
The opinions and some comments contained herein reflect the judgment of the author, as of the date noted.
Investment products and services provided are offered through Synovus Securities, Inc. (SSI), a registered Broker-Dealer, member FINRA/SIPC and SEC Registered Investment Adviser, Synovus Trust Company, N.A. (STC), Creative Financial Group, a division of SSI. Trust services for Synovus are provided by STC.
Regarding the products and services provided by GLOBALT: 
NOT A DEPOSIT.    NOT FDIC INSURED.    NOT GUARANTEED BY THE BANK.    MAY LOSE VALUE.    NOT INSURED BY ANY FEDERAL AGENCY