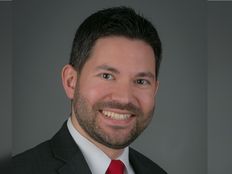 "Dynamic's ongoing efforts in the asset management business are vital to the future success of our firm"
Etus has been promoted to the position of Chief Investment Officer, following his accomplishments as Head of Strategy, overseeing Investment Management at Dynamic. After more than a decade of specialized asset management experience at the Orion organization (CLS Investments and Orion Portfolio Solutions), Etus joined Dynamic in July 2021 in the newly created Head of Strategy position to accelerate the firm's development of institutionalized asset management services.
Under Etus' leadership, Dynamic refined its philosophy to deliver a consistent, institutional-level portfolio experience for advisors and clients. His experience has enabled Dynamic to strengthen its investment research, asset allocation and strategy development, including the development and launch of enhanced ETF strategies, and increased investment and market-related communications with advisors and their clients.
Etus has also led the expansion of Dynamic's platform to include alternatives and custom high-net-worth (HNW) solutions. He has been instrumental in further positioning Dynamic as a growing TAMP services provider, which includes the expansion of Dynamic's asset management services beyond its core network of advisors.
Lucas Felbel has been promoted to Director, Portfolio Services. Since assuming the Manager role in March 2021, Felbel has been responsible for multiple improvements and successes across the Portfolio Services team. This includes process and service experience improvements, as well as an expansion of the team's portfolio management capabilities. Under his leadership, Portfolio Services has established and achieved high efficiency ratings for rebalance and cash management deliverables. Also, under Felbel, proactive service improvements have resulted in such areas as model implementation and delivering on Dynamic's newest capabilities for custom fixed income portfolios, custom HNW portfolios and Dynamic's expanded TAMP business.
Felbel joined Dynamic in April 2020 as a Portfolio Services associate from M.S. Howells & Co., a broker-dealer in Scottsdale, Ariz., where he worked with RIAs and hedge funds, trading in equity, fixed income, options and other securities. Prior to that, he had a successful college hockey career at Arizona State University, where he graduated Magna Cum Laude, earning two Bachelor of Science degrees in Finance and Marketing.
"Dynamic's ongoing efforts in the asset management business are vital to the future success of our firm," said Founder and CEO Jim Cannon in an internal announcement. "I want to recognize and congratulate Kostya and Lucas for the significant strides Dynamic has made during the past 18 months to refine our foundation, build our team, develop our strategies and improve our operational capabilities. These two leaders have driven the progress we have achieved thus far, and I look forward to continued achievements, positioning Dynamic as a leader in asset management for independent wealth advisors."
About Dynamic Advisor Solutions dba Dynamic Wealth Advisors
For successful wealth advisors who value independence and want to elevate their practices to the next level, Dynamic Advisor Solutions is a professional services and TAMP solutions provider, delivering a complete business and investment solution, myVirtualPractice™, to create efficiencies so advisors can focus on providing exceptional client experiences. Dynamic's U.S. network comprises approximately 80 wealth advisory practices in 17 states; it includes Independent Advisor Representatives (IARs) and Registered Investment Advisors (RIAs), serving nearly 5,000 clients and $3.2 billion in assets. For more information, visit DynamicAdvisorSolutions.com.
For more news, information, and analysis, visit the ETF Strategist Channel.
Investment advisory services are offered through Dynamic Advisor Solutions, LLC, dba Dynamic Wealth Advisors, an SEC registered investment advisor.