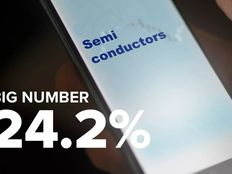 Chip stocks have come out swinging to start 2023
In what could be a harbinger of things to come for the markets, semiconductor stocks are heating up this year. For example:
The S&P 500 Semiconductor and Semiconductor Equipment Industry Group Index is up 24.2% year to date*, versus 5.7% for the S&P 500.
It's the chip sector's best calendar-year start in more than 20 years (see the chart, which shows the index's YTD performance through the first 42 trading days of each year going back to 1991).
The index has logged the 2nd-best YTD performance of all 24 industry indices so far this year. (Only the automobile sector has done better.)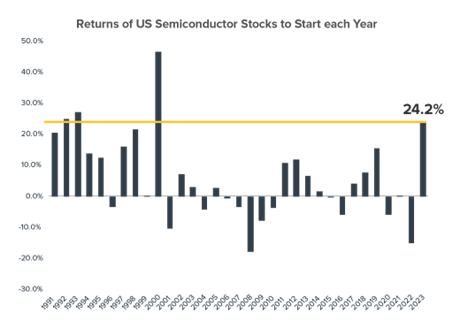 Some investors are cheering that news because semiconductor stocks can often be seen as a leading indicator of the broader market's future results.
One reason: Chips are increasingly the first step in the supply chain for lots of businesses—indeed, the number of products that don't include some type of semiconductor seems to be shrinking every day. Conditions in the chip sector, therefore, offer one way to assess the prospects for the economy and stock market (similar to the role the transport sector has historically played).
To be sure, this semiconductor gauge isn't calling for an imminent bull run. In recent months, some chipmakers have reported stronger-than-expected financial results, while others have disappointed Wall Street. The sector also is navigating its way through an excessive inventory of semiconductors that arose after the pandemic created a major chip shortage.
That said, the U.S. economy remains strong—consider January's surprisingly robust consumer spending and retail sales, for example. Continued strength would likely mean healthy demand for lots of chip-enhanced goods from across multiple sectors of the economy.
Given these conditions, we have implemented a less-defensive posture in Horizon's portfolios by modestly increasing the level of equity risk—while remaining watchful for emerging signs of weaker growth that could put pressure on riskier assets.
For more news, information, and analysis, visit the ETF Strategist Channel.
---
Content continues below advertisement