From Worst to First
We have continued to hammer this nail over the course of our last few market commentaries, but it is worth continuing to point out that some of the market's best performers in 2023 have been its largest stocks. Funny enough, these same stocks were the market's worst performers last year.
The table below shows the S&P 500's largest seven stocks. Each of these are technology-related stocks. Each of these stocks are up more than 30% this year. Three of these stocks are up over 100% for the year. But only three of these securities have recovered from the substantial declines taken last year. Stocks like Tesla and Meta might be up more than 120%, but do not let that number fool you. Even with the large rallies, Tesla and Meta stocks have still not yet recovered from last year's losses. Google and Amazon have also seen substantial rises but are each down more than -15% from their 2022 starting watermark.

---
Content continues below advertisement
Market leadership this year has been concentrated in the S&P 500's largest securities. The technology stocks that were hit hardest last year have rebounded substantially this year. That being said, 208 stocks in the S&P 500 are down for the year. The heavy hitters may be up a lot, but over 40% of the market index's stocks are down.
Home Builders
Here is an observation. It feels like there has been a large increase in the number of housing developments recently. New neighborhoods have sprung up seemingly overnight. When doing a quick search on Zillow, most of the available homes are "New Construction." In fact, economic data shows that new home sales have surged. A KPMG economist reported that "new builds now account for a third of all available homes on the market."
Homeowners have been unwilling to sell their existing home and trade in their low interest rate for a much higher one. Prospective home buyers have few options available on the market other than to build a home.
Home building stocks have been exhibiting positive characteristics prior to May's economic data showing a surge in new home sales. Canterbury's Security State indicators show that homebuilding ETFs have been a "Bullish" or "low risk" Security State since December of last year. Our proprietary portfolio, the Canterbury Portfolio Thermostat, took a position in Homebuilders back in late January and continues to hold that position.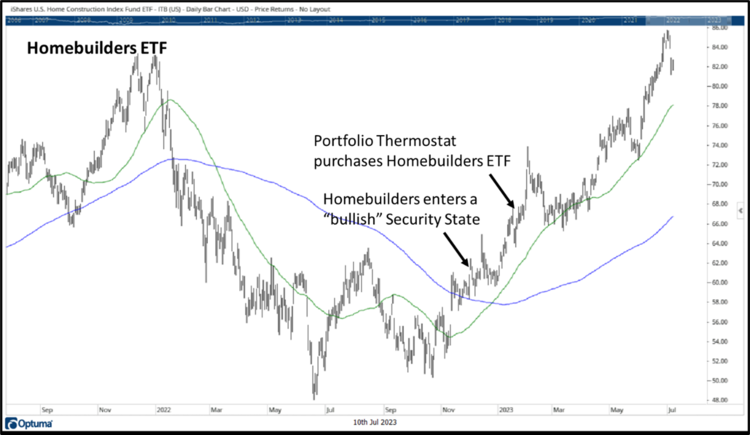 Bottom Line
It has been a strange market. Larger technology-related stocks have led, and many have seen substantial rises. On the other hand, there are still several stocks that are down on the year. The S&P 500 is a cap weighted index, meaning that larger capitalized stocks play a larger role in the index's performance. The seven largest securities make up 28% of the S&P 500's movements. Bottom line, those stocks have seen parabolic moves this year, and skewed the overall health of the market.
It has now been 42 trading days since the market's last outlier day (trading day beyond +/-1.50%). That is a sign that the market has been trading more efficiently. It would be reasonable for the market to experience an outlier day soon. The expectation would be that any increases in volatility that come because of an outlier day would be caused by technology stocks, since they tend to drive the market's performance.
Canterbury continues to monitor for any changes in the market's conditions. We have exposure to technology-related securities, as well as areas like homebuilders. We also have a few defensive positions to maintain stable portfolio volatility. In this environment, the market may begin to experience some rotations in leadership. If and when that occurs, the Portfolio Thermostat will adapt its holdings.
For more news, information, and analysis, visit the ETF Strategist Channel.