This week's Investor Insights newsletter and market update will discuss the broad markets sectors, investor sentiment, and some Canterbury stock analytics.
Broad Market and Sectors
We noted in last week's newsletter that if "we see several [outlier days] over the course of a few weeks, it would be a sign that the market is becoming much more inefficient." Last Tuesday, markets came within a few percentage points of seeing another down outlier day (a trading day beyond -1.50%). The market did not see an outlier for ninety-four consecutive trading days, and then nearly saw two on the downside in the span of a week.
What sectors are leading the recent weakness in the markets? For starters, the worst performing market sector has been Real Estate. Over the last month, the S&P 500 real estate sector is down -8.50%. As an aside, Canterbury owns an inverse position in Real Estate, which has moved in the opposite direction. The next weakest sector was Utilities. The Utilities sector is traditionally seen as a more "defensive." This sector was down -7.3% in September and reached a new 52-week low. Utilities were down another -5% on Monday as of this writing.
Just using the eye test, only two sectors (out of eleven) have positive sloping relative strength to the S&P 500 right now. Those two sectors are Communications and Energy. The other nine sectors have either negative or flat relative strength.
Bottom line, market weakness has been felt across the board. In addition, bonds have not been a flight to safety and continue to decline. Long-term bonds were down nearly -8% last month, as measured by the twenty-year treasury bond ETF (TLT). Canterbury's adaptive portfolio management strategy does not own any bond ETFs.
Investor Sentiment
In many of these newsletters, we highlight the AAII Investment Sentiment survey, which surveys its members on where they feel the stock market will be in the next six months. This sentiment survey is a contrarian indicator, meaning that investors feel most bullish at peaks prior to a decline, and most bearish at troughs prior to an advance. The percentage of investors who were "bullish" on the markets peaked in late July. At the time, 51% of investors surveyed were bullish. This was the bullish sentiment's highest percentage since April 2021.
Now, market sentiment has reversed. Only 28% of investors consider themselves bullish and 41% are now bearish. As stated before, this is a contrarian indicator, but sentiment can remain negative for several weeks prior to a market reversal. Bearish sentiment got as high as 60% in 2022.
---
Content continues below advertisement
Stock Analytics
As a refresher, Canterbury uses a technical, objective system to assign a "buy, hold or sell" rating to individual listed securities and ETFs. These ratings are a combination of common technical indicators, volatility, and relative strength.
Looking at the stocks within the S&P 500, there are a lot more securities giving sell signals than there are giving buy signals. Currently, a little more than half of all S&P 500 stocks (53%) are giving a sell signal. Only 11% are showing buy signals, and 35% have a hold rating. The chart below shows the breakdown of each sector. Notice that the two weakest sectors that were mentioned above (Real Estate and Utilities) have the highest percentage of stocks giving sell signals. Communications and Energy have the highest percentage of stocks giving buy signals, although it is still not very high.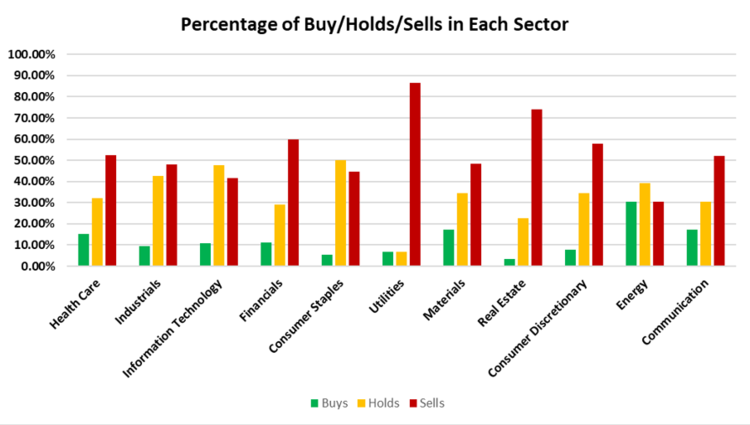 These ratings are produced every day and will change as market conditions change and leadership rotates.
One of the stocks that has a buy rating and has risen up our risk adjusted rankings is Costco (COST). Canterbury has owned this stock for the last several weeks. After a brief pullback and test of technical support, COST has rallied back and is attempting to break out above overhead resistance. Additionally, it is currently showing positive relative strength to the overall market.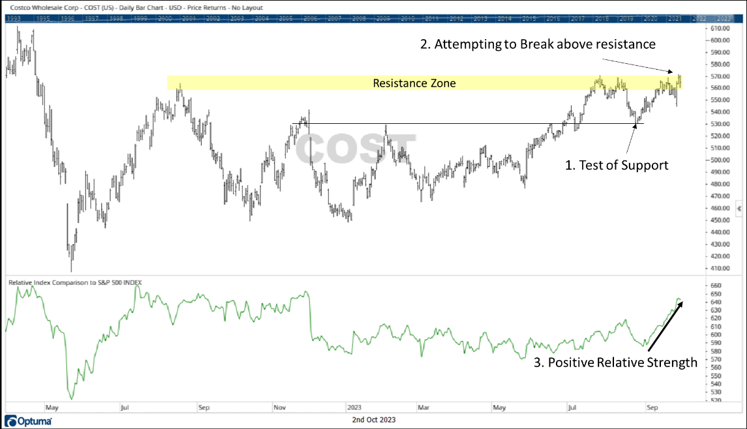 Bottom Line
There are more stocks out there showing negative characteristics than there are showing positive characteristics. We have seen several sectors start to break down, and investors are becoming more pessimistic. Sometimes, that can actually be a good sign. Markets are counterintuitive and will typically move in the opposite direction of what most investors would predict.
That being said, before things get better for the markets, there are several stocks that will need to turn things around or hold key support levels. This is a market where investors need to have caution. Technology stocks have carried the markets higher, while other sectors have largely lagged. Now that technology has shown some shakiness, the laggards continue to be weak. More inverse securities are starting to give buy signals.
Volatility has remained low, but looking at the big picture of the markets, as well as the individual stocks, there would seem to be a higher probability that markets will experience more outlier days. Most of the market's trading volume has been to the downside.
Canterbury has adapted its holdings and currently owns a few individual stocks, as well as the stronger sectors like Energy and Communications. Even with weaker equity markets, many bonds continue to go down. To play a little defense and maintain consistent portfolio fluctuations, Canterbury holds some inverse positions in the market's weakest areas like Real Estate and Small Cap stocks. As market leadership rotates, Canterbury will continue to be adaptive to new market conditions.
For more news, information, and analysis, visit the ETF Strategist Channel.