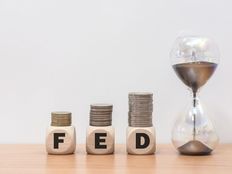 After a prolonged debt ceiling standoff in Washington came to an end, the FOMC delivered on its long-awaited policy rate "pause" at the June meeting. While the committee indicated further hikes to come, Powell downplayed the Fed's projections, effectively eliminating forward guidance for the months ahead. Inflation is moving decisively lower, while the historically strong labor market is showing signs of weakening. We expect the trajectory of growth and inflation to continue trending lower through the balance of the year as the market now faces the prospect of a liquidity withdrawal from heightened Treasuries issuance. A soft-landing outcome is squarely consensus at this point and pricing in credit, equities, and rates have reflected that. We believe the risk continues to be to the downside in both the economy and risk assets given our negative outlook on growth and liquidity.
1. A Hawkish Pause From the FOMC… The Market Doesn't Buy It: The FOMC elected to keep interest rates on hold for the first time in 15 months last week while indicating two more hikes to come through their "dot plot" median projection. While Powell stated that the July FOMC is a "live meeting," he also tried to downplay the significance of the Fed's forecasts and dot plot. The markets are not reflecting the Fed's new projections and remain priced for about one more hike this year, then pause until 2024.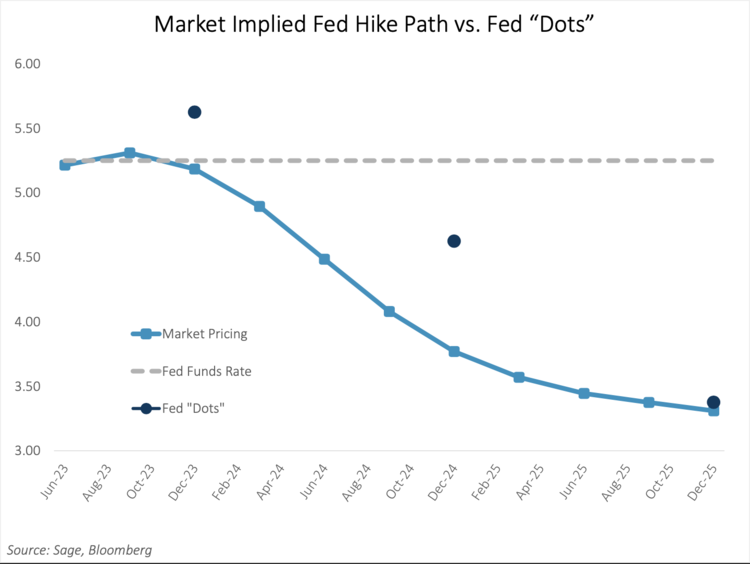 2. The Stickiest Component of Inflation Moving Lower: Owner's equivalent rent, the biggest component of CPI is starting to show signs of peaking. Rent inflation from private sources have been coming down for some time, so it was a matter of time that the OER component of CPI followed. As this is a large and relatively stable portion of CPI, we believe a decrease in OER will result in the slowing of CPI through the rest of the year.
---
Content continues below advertisement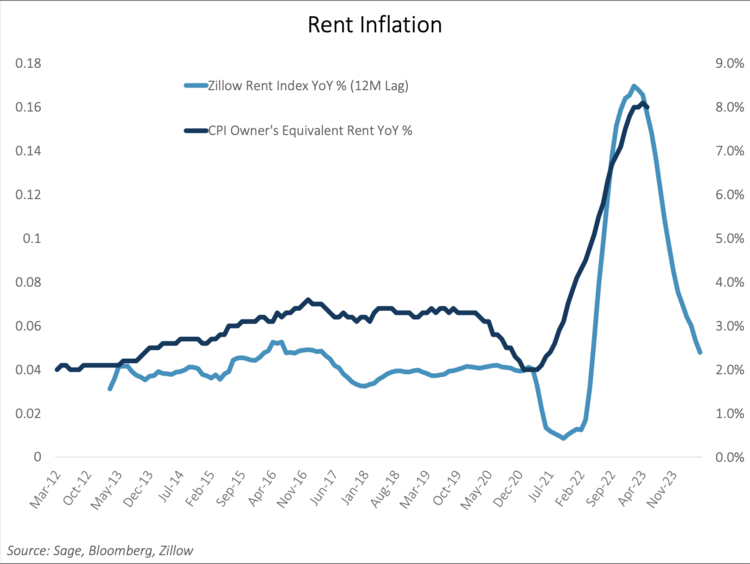 3. Labor Supply Improving – Which Should Alleviate Wage Pressures: The labor market has been extremely resilient during this economic cycle, owing to the stimulus cash during the post-COVID response. Labor markets are slowly showing weakness with the latest weekly jobless claims data higher than expectations and at the highest level in 18 months.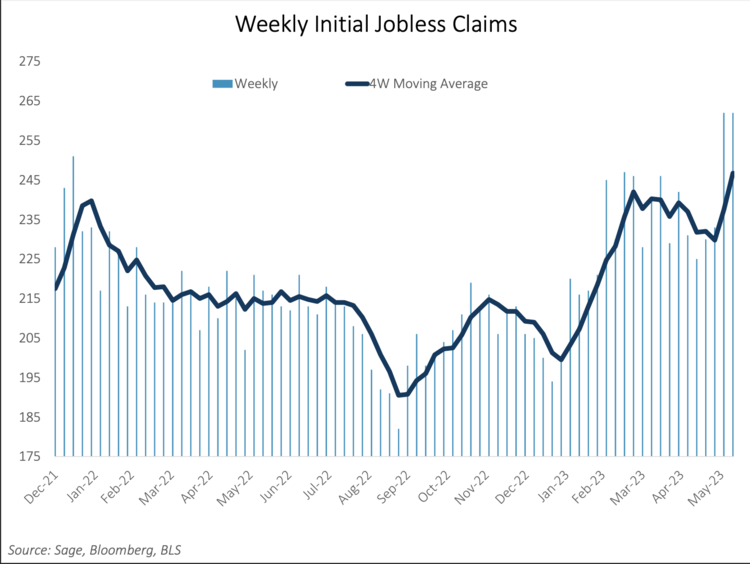 4. TIPS Present Value on Both Real Yield and BEI Terms: The 10Y breakeven inflation implied by the TIPS market is currently 2.2% which is near the post-COVID low and the Fed's long-term target. Additionally, a 1.5% real interest rate is also the highest in nearly 15 years.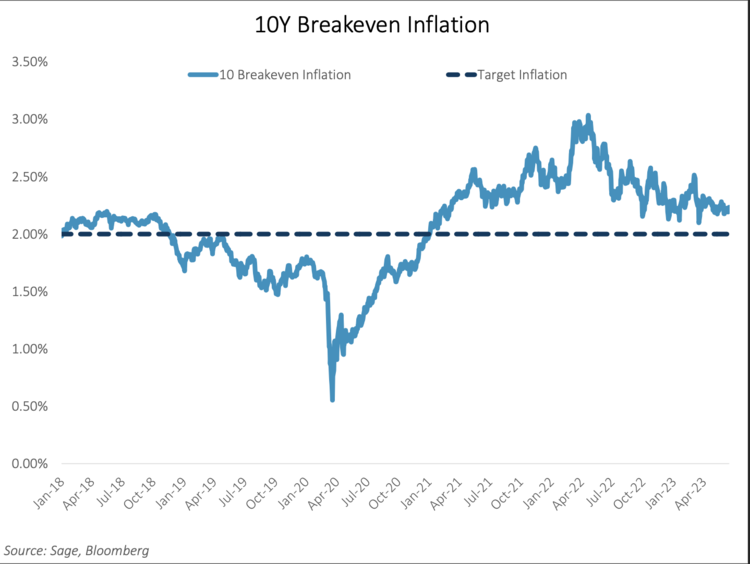 5. Historic Value Opportunity in MBS: With corporate bond spreads near its historical average, the spread on current-coupon MBS presents an interesting relative value as the sector rarely trades above corporate bond spreads. We remain positive on MBS as the Fed shifts to a "pause" and interest rate volatility moves lower.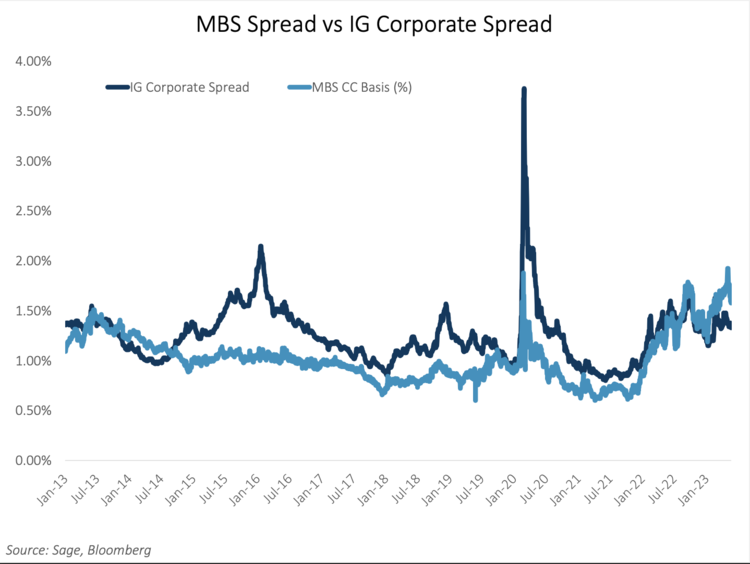 Disclosures: This is for informational purposes only and is not intended as investment advice or an offer or solicitation with respect to the purchase or sale of any security, strategy or investment product. Although the statements of fact, information, charts, analysis and data in this report have been obtained from, and are based upon, sources Sage believes to be reliable, we do not guarantee their accuracy, and the underlying information, data, figures and publicly available information has not been verified or audited for accuracy or completeness by Sage. Additionally, we do not represent that the information, data, analysis and charts are accurate or complete, and as such should not be relied upon as such. All results included in this report constitute Sage's opinions as of the date of this report and are subject to change without notice due to various factors, such as market conditions. Investors should make their own decisions on investment strategies based on their specific investment objectives and financial circumstances. All investments contain risk and may lose value. Past performance is not a guarantee of future results. Sage Advisory Services, Ltd. Co. is a registered investment adviser that provides investment management services for a variety of institutions and high net worth individuals. For additional information on Sage and its investment management services, please view our web site at www.sageadvisory.com, or refer to our Form ADV, which is available upon request by calling 512.327.5530