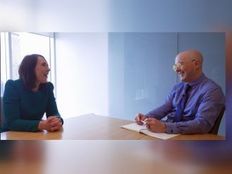 In this edition of the VettaFi Viewpoints series, VettaFi financial futurist Dave Nadig continued his visit to Canada's ETF community. Canada's asset management landscape has certain distinct traits that set it apart from the American asset management landscape, from yield-hungry investors to a taste for short-term opportunities.
The most recent episode, "Collaborative Competition: Navigating Canada's Unique Markets," saw Nadig sit down with BlackRock's head of iShares Canada & MD, Helen Hayes. Nadig and Hayes touched on a variety of topics relevant to both American and Canadian investors, including iShares' place in the Canadian financial community, concentration risk, ESG theming, and more.
Hayes joined BlackRock in November 2021 following more than a decade at CIBC Capital Markets. At CIBC, Hayes worked in the equity markets side of the shop based out of both Toronto and London during her time there. Prior to CIBC, Hayes also spent more than a decade at UBS working on institutional sales.
VettaFi Viewpoints: Canada's Asset Management Landscape
1:00: The nature of Canada's financial community
1:45: How important are partnerships in the Canadian finance world?
2:15: Where has iShares been finding its fit in Canada?
3:30: Have Canadian asset allocation ETFs changed with a live rates market?
5:00: Do you think comfort with floating rates in Canada, for example, makes investors more comfortable looking for short-term opportunities?
6:15: Concentration of seven stocks driving performance
8:30: Do you feel like retail investors are looking for something different than the advised client right now?
10:00: How do family offices bridge the gap between day trader/retail clients and institutional offices?
10:45: How is RBC adapting and breaking through the noise?
13:00: The transition and sustainability portfolio vs. ESG theming
13:45: Canada's relationship to the environment as a resource extraction economy:
Financial futurist Dave Nadig hosts more conversations at the VettaFi YouTube Channel. Send your thoughts, comments, and feedback to editorial@vettafi.com.
For more news, information, and analysis, visit the ETFs in Canada Channel.
---
Content continues below advertisement