Technology is at the heart of what Vanguard provides and continually "needs to be an area of investment," according to CEO Tim Buckley.
"For us, technology is the embodiment of our service," Buckley said. "We've always been a virtual company."
Speaking at Exchange: An ETF Experience on Tuesday, the Vanguard chief advised other investment firms to continually invest in their tech. Otherwise, "you fall behind because it gets so costly to address your legacy applications; it becomes an albatross. They slow down what you can do for your clients."
Buckley explained that a few years ago, Vanguard decided to eliminate its legacy applications and make the platforms that provide its investment services "cloud-native."
"So, we're about 74% of the way through rebuilding all our applications to be cloud-native," he said, adding that continually upgrading and investing in technology "builds up your resiliency, [and] builds up your speed."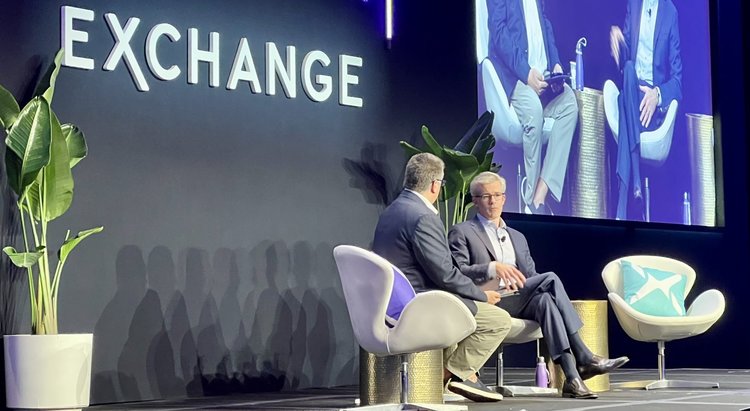 Buckley cited an example of the mobile app Vanguard launched last year that "fell flat on its face" and was "panned."
"Our clients hated the mobile app," he said.
Previously, when something like this happened, the company would have to "live with it" and "have to wait nine months to fix the problem." But because it was built cloud native, that meant Vanguard could make changes to it every two or three days. So, in nine months, Vanguard "did 200 releases" to the app. Now, the app has gone "way past" the client satisfaction ratings.
"Being cloud native can give you incredible speed," Buckley said.
Looking forward, Buckley said that Vanguard's goal is "to make sure we're producing the top performing funds and ETFs out there."
"We'll wrap it with low-cost, scalable advice and deliver them on a world-class, digitally enabled platform," he added. "And if you do that well and you can keep improving it, you'll create value into the future."
For more coverage of the Exchange conference, please visit VettaFi | ETFDB.
---
Content continues below advertisement