Ritholtz Wealth Management managing partner Michael Batnick and director of institutional asset management Ben Carlson recorded a live episode of their podcast "Animal Spirits" for Exchange, featuring special guest Phil Mackintosh, chief economist from Nasdaq. "Animal Spirits" is a show about markets, life, and investing. The typical episodes revolve around Batnick and Carlson discussing what they are reading, writing, listening to, and watching. This edition focused less on the extras, sticking to discussions about the state of the markets.
Asked by Batnick what there is to Nasdaq beyond what most people know, Mackintosh said, "The technology stack runs the exchanges for many cities around the world." He explained Nasdaq's broad suite of services and the evolving nature of trading. "These days, everything is electronic… Trading has become a lot cheaper, which means the investor gets to keep more of the returns," Mackintosh noted.
The Nasdaq 100 is known as a tech-heavy index, but according to Batnick, plenty of non-tech companies populate the list. Mackintosh concurred, noting that market cap matters more. "Healthcare has gotten bigger while tech has gotten smaller," he offered.
Recession
Carlson explained that 60% of economists think there will be a recession in 2023, asking Mackintosh where he fell. Mackintosh said he was on the fence: "I've been surprised, there are a lot of economists hedging their bets." He explained that there are signs in both directions, but it might depend on what the Fed does.
Wages continue to grow, and there are two jobs available for every job seeker. "We've got a gap in skills and a gap in labor, which gives the Fed a chance for a soft landing where you slow the economy down but don't create joblessness," Mackintosh said.
The reality is there have not been many recessions in the last 50 years, but according to Mackintosh, no two are alike. The last two recessions have been particularly brutal, despite the quick recovery from the COVID recession. Mackintosh proffered that many younger investors might not be used to lighter recessions. "It's possible we have a recession more like some of the historic recessions."
Batnick concurred, saying, "A recession doesn't necessarily have to be a crisis."
According to Mackintosh, earnings have flatlined but are starting to show signs of coming to life. If earnings go up, markets are likely to go up as well.
---
Content continues below advertisement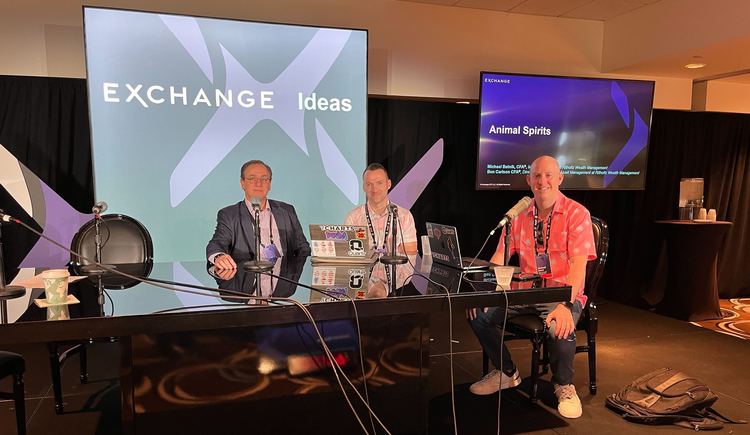 Growth, Value, and Nasdaq Without Tech
"Last year was all about rates rising," Mackintosh said, talking about how growth companies got discounted compared to the value in 2022. Historically, it's pretty rare for either growth or value to dominate for just one year, meaning that value might remain a strong play even in 2023.
Carlson asked how long the markets could hold the high rates. With China reopening and a robust labor market, underlying inflation could persist. "For the next four or five years, you could have slightly higher costs," said Mackintosh. A zero interest rate environment could create other distortions, while a 3% inflation rate could be pretty digestible.
Mackintosh also discussed how classic tech growth stocks are becoming more like value stocks, notably companies like Google. ETFs also offer interesting ways to approach the Nasdaq 100, and Mackintosh said that there was even a Nasdaq 100 ex-tech ETF, the (QQXT B-).
There Is an Alternative
Stocks have historically been vital to investing, but Mackintosh noted that "the dividend yield on stocks is now lower than what you can get with bonds."
Consumers have been consistently spending, and with unemployment remaining low and salaries going up, the likelihood of a soft landing increases, but corporates have struggled. "Do earnings recover or do they get worse?" asked Mackintosh.
Carlson noted that Batnick has recently been touting the bond market as the smart money and framed the coming months as a showdown between the bond markets and the Fed. The group anticipates that come March, the Fed may be questioning pushing forward with its final planned rate hike, given the data.
For more coverage of the Exchange conference, please visit VettaFi | ETF Trends.