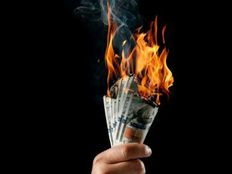 Hotter-than-expected inflation is reminding bond investors to stay on the short side when it comes to duration. It's been the default play given that more interest rate hikes are to be expected from the U.S. Federal Reserve.
"Short-term U.S. Treasury yields continued to climb higher on Wednesday as investors digested the previous session's dramatic market route triggered by a hot inflation reading," a CNBC report said.
As short-term yields push higher, it gives bond investors an opportunity grab more yield while keeping rate risk low. As such, exchange traded funds (ETFs) like the Vanguard Short-Term Treasury ETF (VGSH A+) are worth considering.
With short duration in focus, VGSH is a prime option to consider. This ETF offers exposure to short-term government bonds, focusing on Treasury bonds that mature in one to three years.
Overall, VGSH:
Seeks to provide current income with modest price fluctuation.
Invests primarily in high-quality (investment-grade) U.S. Treasury bonds.
Maintains a dollar-weighted average maturity of one to three years.
An Active Option
An active option to consider while keeping duration on the short side is the Vanguard Ultra-Short Bond ETF (VUSB B+). It can be an ideal option over going with a money market fund in order to get a more competitive yield offering.
Furthermore, an active management strategy provides for dynamic exposure to the short-term bond market. The portfolio manager can get in and out of positions as they deem fit, when the current market warrants a change and/or both.
With its low 0.10% expense ratio, VUSB's investment objective is to seek to provide current income while maintaining limited price volatility. This should appease investors who dismiss active funds as too expensive.
Highlights of VUSB:
A diversified portfolio of high-quality and, to a lesser extent, medium-quality fixed income securities.
The fund is expected to maintain a dollar-weighted average maturity of zero to two years.
Under normal circumstances, the fund will invest at least 80% of its assets in fixed income securities.
The fund is designed to give investors low-cost exposure to money market instruments and short-term high-quality bonds, including asset-backed, government, and investment-grade corporate securities.
For more news, information, and strategy, visit the Fixed Income Channel.
---
Content continues below advertisement