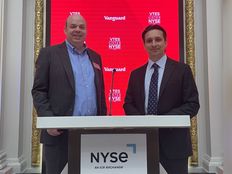 U.S.-listed fixed income ETFs had net inflows of $52 billion in the first quarter of 2023, equal to 65% share of the industry's cash haul despite being just 20% of the assets. Even though the underlying investments are traded over the counter, fixed income ETFs are bought and sold on an exchange, resulting in a better experience for advisors and end clients. Leaders from Vanguard, which has been one of the beneficiaries of this demand, rang the closing bell of the New York Stock Exchange this week in celebration of its fixed income ETF success.  
"The backdrop in fixed income has been a big tailwind to ETFs," explained Jeff Johnson, head of fixed income product at Vanguard, in an exclusive interview. "Yields are near the highs of the last decade+ with the 2-year Treasury at around 4.2% and the 10-year Treasury around 3.6%. The slowing growth narrative also prompts more caution in equities. Paired with yield levels, this makes fixed income particularly attractive." 
Johnson added this environment has put in focus many of the evergreen benefits of fixed income ETFs, including low costs and strong liquidity. For example, Vanguard's fixed income ETFs have a microscopic weighted-average expense ratio of 4 basis points, which is even lower than 7 basis points for fixed income mutual funds. In addition, fixed income ETF trading volumes totaled nearly 6 trillion in 2022, according to Johnson, which was almost 2 billion more than the levels in 2020 and 2021. We are on pace to exceed 7 trillion in 2023.  
Fixed income ETFs continue to garner greater adoption by advisors as the products have once again been battle tested and passed. 
At Vanguard, Johnson told VettaFi he is seeing evidence that investors are focused on getting back to their core asset allocation. Three of the firm's top fixed income ETFs in cash flow in 2023 are the (BND A), the (BNDX A-), and the (VTEB A+).  BND and BNDX added $3.5 billion and $2.4 billion of new money, respectively, in the first quarter of 2023. 
"These three products give investors very broadly diversified exposure across the fixed income market," added Johnson. "Municipals, in particular, are an area we expect continued growth. ETF adoption was late to the municipal market, but there is plenty of room for growth."  
With $1.3 billion of net inflows for VTEB in the first three months per VettaFi data, advisors and end clients have added core municipal bond exposure and are not just investing in taxable bond strategies. The firm also launched the (VTES ) in mid-March, and the product was already approaching $100 million in assets, which is also worthy of recognition.  
For more news, information, and analysis, visit VettaFi | ETFDB.