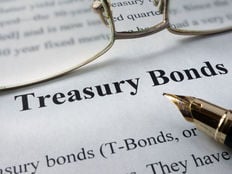 Sticky and stubborn inflation could keep yields elevated for some time, but as the Federal Reserve continues to tamp down inflation, fixed income investors can seek a middle ground for Treasury note exposure with the (VGIT A).
For the past couple of years, short-term bonds have been the default play in the bond market to curb rate risk. As investor confidence returns to the bond market, some investors are resorting to long-term bonds again, but a median play to consider as the Fed fine-tunes its monetary policy is intermediate bonds.
Right now, yields have been climbing as the economy continues to run hot while at the same time, an abundance of bond supply is available in the Treasury market.
"A recent spike in U.S. bond yields has come alongside muted expectations for inflation, a sign to some bond fund managers that economic resilience and high bond supply are now playing a larger role than second-guessing the Federal Reserve," a Reuters report said. "Benchmark 10-year nominal yields on Tuesday (August 23) hit near 16-year peaks on concerns about U.S. Federal Reserve Chair Jerome Powell sending a hawkish message about keeping rates high at the annual Jackson Hole symposium on Friday (August 18)."
Rising yields, however, could prove to be temporary as the expectation of lower interest states is the still the prevailing notion as 2023 gets longer in the tooth.
"But while higher moves in bond yields in the last several months were often driven by investors pricing in higher interest rates as the Fed sought to tame rising inflation, expectations on the pace of price rises have moved lower in recent weeks," the article added.
A Median Between Yield and Duration
With a 30-day SEC yield of 4.33% (as of August 22), VGIT effectively bridges the need to obtain yield and limit duration in the event of further rate hikes. It's an ideal option for those who want more than what a short-duration bond ETF can offer in terms of yield, but not the rate risk that goes with stepping out further into the yield curve.
For the risk-averse, VGIT gives investors exposure to safer debt issues with Treasury notes. Per the fund description, VGIT seeks to track the performance of a market-weighted Treasury index with an intermediate-term dollar-weighted average maturity.
The fund employs an indexing investment approach designed to track the performance of the Bloomberg U.S. Treasury 3-10 Year Bond Index. This index includes fixed income securities issued by the U.S. Treasury (not including inflation-protected bonds) with maturities between three and 10 years.
For more news, information, and analysis, visit the Fixed Income Channel.
---
Content continues below advertisement