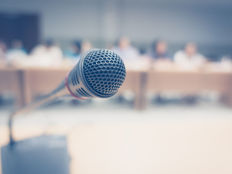 VettaFi's Fixed Income Symposium, happening on July 24th, is fast approaching. The symposium will bring together industry thought leaders. According to head of research Todd Rosenbluth, "We're bringing together some of the leading asset managers to help us provide insights into what's ahead for the fixed income markets. Advisors are using fixed income ETFs as the core of their portfolios, as well as tactical allocations to support existing mutual funds. With so many tools at their disposal, it helps to hear from the experts on implementation."
Accordingly, the impressive list of speakers grows by the day. Here are just some of the of the experts bringing their insight to the symposium.
BlackRock's Steve Laipply is a Fixed Income Thought Leader
The Global Co-Head of iShares Fixed Income ETFs for BlackRock, Steve Laipply is well-regarded as a thought leader on fixed income markets. Additionally, he has an impressive history with fixed income ETFs. He has authored and co-authored numerous articles on fixed income investing and has been widely published in academic journals and textbooks.
Therefore, Laipply will focus on actively managed fixed income and how it can work in tandem with index products. One of BlackROck's recent launches, the (BINC ) uses an active management approach to global, multisector fixed-income exposure.
---
Content continues below advertisement
Panagram's Danielle Gilbert Brings CLO Expertise
A Managing Director for Business Development at Panagram, Gilbert has an impressive resume. Previously, she was the Director in securitized product sales at RBC Capital Markets. Before that, she was the Managing Director and Partner at RW Pressprich. She'll be discussing the timely topic of CLOs at the symposium.
Recent news of cooling inflation combined with ongoing rumors of further rising rates means advisors can't afford to miss Gilbert's discussion of CLOs, which are less rate sensitive than many other fixed income products. Products like the (CLOZ A) could be important tools for advisors. Espcially considering this unusual rate environment.
Simplify's Paul Kim Won't Pass the BUCK
Though this is a fixed income symposium, Simplify Asset Management's CEO and Co-founder Paul Kim is going to discuss something on everyone's mind – alternatives. Kim will be focused on using options to create a bond-like experience where investors can get income without all of the credit or duration risk. The (BUCK A) makes use of options in just such a fashion.
Kim is an innovator and architect in the ETF industry. Prior to Simplify, he was Principal Global Investors head of ETF strategy and portfolio manager. Kim built Principal's $3+ billion ETF business from scratch. He also lent his talents and expertise to PIMCO and helped launch and establish their $20+ billion ETF platform of fixed income ETFs.  He is a frequent speaker at industry panels and in financial media.
Register for the Fixed Income Symposium here.