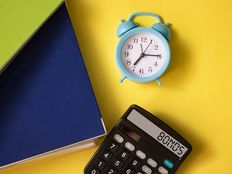 Vanguard today launched the Vanguard Short-Term Tax-Exempt Bond ETF (VTES A). The new municipal bond index ETF is designed for tax-sensitive investors with a short-term time horizon and low interest rate risk tolerance.
VTES predominantly invests in short-term investment-grade municipal bonds and will track the S&P 0-7 Year National AMT-Free Municipal Bond Index. Steve McFee is the fund's portfolio manager. The fund has an expense ratio of 0.07%.
"Vanguard Short-Term Tax-Exempt Bond ETF is built to optimize tax efficiency for investors seeking to allocate to the shorter end of the municipal bond market," said Sara Devereux, global head of Vanguard Fixed Income Group. "The new ETF complements our broad fixed income lineup and provides clients with another avenue to tap our municipal bond team's talent and capabilities."
VTES is Vanguard's second municipal bond ETF after the Vanguard Tax-Exempt Bond ETF (VTEB A+). While VTEB's duration is roughly five and a half years, the duration for VTES comes in at around two and a half years.
"In the past year, Vanguard pulled in $12 billion into VTEB as advisors and end clients sought the relative stability and diversification of a portfolio of tax-free investment-grade bonds," said Todd Rosenbluth, head of research at VettaFi. "However, as interest rates continue to climb higher in 2023, Vanguard now can offer a lower-risk alternative to those wanting to protect against some of the downside."
Vanguard crossed the $2 trillion mark in U.S.-listed ETF assets under management this week, thanks in part to gaining $23 billion in net inflows at the start the year and positive year-to-date total returns for nearly all of its ETFs. Vanguard is the second-largest ETF provider behind BlackRock, which manages $2.3 trillion in ETFs.  
For more news, information, and analysis, visit the Fixed Income Channel.