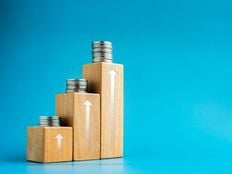 The third month of the year is upon us, and with it comes another strong performance for bonds, with the asset class lording its $4.5 billion in weekly asset flows. That's much more than the only other asset class to take in net flows, the multi-asset class, which added just $27.4 million to its $31 billion AUM, and nearly the total opposite to the -$4.8 billion in net outflows borne by equity ETFs in weekly asset flows.
Weekly Asset Class Fund Flows
| Asset Class | AUM ($, mm) | Net Flows ($, mm) |
| --- | --- | --- |
| Bond | $1,287,089.58 | $4,554.62 |
| Multi-Asset | $30,958.89 | $27.38 |
| Alternatives | $5,498.35 | -$10.69 |
| Currency | $3,777.10 | -$18.22 |
| Volatility | $2,789.97 | -$60.53 |
| Preferred Stock | $32,052.00 | -$79.96 |
| Real Estate | $70,847.23 | -$594.78 |
| Commodity | $130,541.70 | -$799.30 |
| Equity | $5,208,174.06 | -$4,769.52 |
Bonds may be able to attribute the inflows to a new wave of Fed rate hikes over the horizon, offering even more yield in a variety of bond subclasses. Treasuries led the way over the last week, with the iShares Short Treasury Bond ETF (SHV A-) adding $2.6 billion in that time, according to VettaFi, followed by the SPDR Bloomberg 1-3 Month T-Bill ETF (BIL A-), which added just under $2 billion.
Just one of the top five bond ETFs based on net weekly inflows focused on a bond segment other than Treasuries, with the broad-based Vanguard Total Bond Market ETF (BND A) adding $892 million, according to VettaFi. In an interesting inversion, the iShares 0-3 Month Treasury Bond ETF (SGOV A) and the SPDR Portfolio Short Term Treasury ETF (SPTS A) took the third and fourth places, adding $1.4 billion and $1 billion, respectively, suggesting a lot of investor demand in short- and very short-term Treasuries.
Though it recently celebrated its 30th birthday, the SPDR S&P 500 ETF Trust (SPY A) led the way in equity ETF outflows for the week with – $3.8 billion, followed by other broad index-focused strategies like the iShares Core S&P 500 ETF (IVV A) and the iShares Russell 200 ETF (IWM A-) with -$1 billion in that same time frame.
That move off of the S&P 500 and the Russell 200 may also be reflected in the $50.6 million and $26.1 million in net inflows added by the Global X S&P 500 Covered Call ETF (XYLD A+) and the Global X Russell 200 Covered Call ETF (RYLD A) over the last week, according to VettaFi, too.
For more news, information, and analysis, visit the Fixed Income Channel.
---
Content continues below advertisement