Core equity markets have been volatile this year, with the S&P 500 down nearly 18% year-to-date. To make matters worse, many industry observers believe that stocks may face a recession within the next six to 12 months. Regardless, it's important that investors maintain equity exposure in the late cycle.
That's where the )+ can help. TTAC provides investors with a quality core solution for such an environment by identifying companies with strong and sustainable profitability that provide core equity exposure with lower downside capture.
"We believe a quantitative active solution is a go-to place in search of all-weather alpha that minimizes your market timing risks," said Vince (Qijun) Chen, an investment strategist from FCF Advisors subsidiary FCF Indexes.
The fund aims to outperform the Russell 3000 through a fundamentals-driven investment process that selects an average of 144 stocks based on free cash flow strength. Its holdings are then weighted by a modified market-cap log transformation, allowing increased exposure to companies with the strongest proprietary free cash flow rankings.
Even with volatility soaring in 2022, TTAC provides 67% of "pure alpha." The fund has outperformed the Russell 3000 by 681 basis points year-to-date.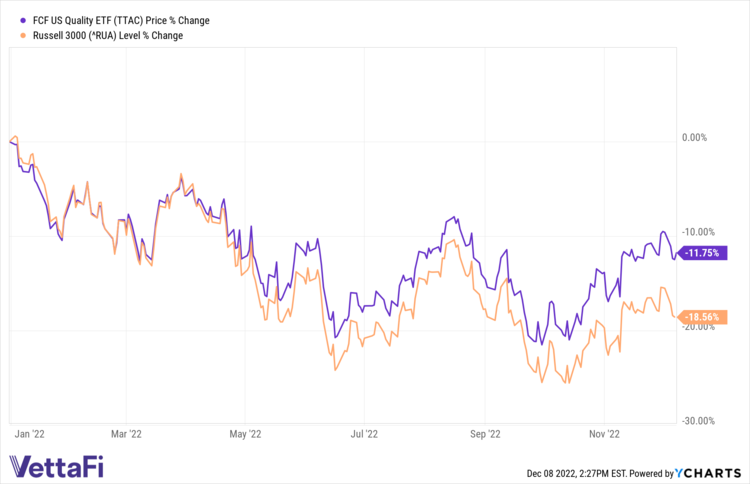 TTAC's portfolio will also be rated with an ESG score, excluding companies with low ESG ratings. Firms with an extreme rise in shares count and increase in leverage are excluded.
"Free cash flow is so important right now, given that the allocation environment has gotten exponentially more difficult in 2022," said Bob Shea, CEO and CIO of FCF Advisors. "Cohorts have never seen an environment like this. In a difficult environment, people want to make sure they understand what they own."
For more news, information, and analysis, visit the .
---
Content continues below advertisement