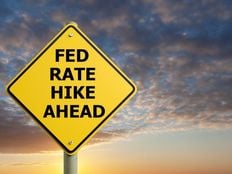 Many analysts believed that the Federal Reserve was nearing the end of its rate hike cycle, as inflation was coming down and the U.S. central bank's latest interest rate increase of 25 basis points was far less aggressive than previous rate hikes. Fed Chairman Jerome Powell on Tuesday suggested that rates will likely climb higher than policymakers had expected.
"The latest economic data have come in stronger than expected, which suggests that the ultimate level of interest rates is likely to be higher than previously anticipated," Powell told the Senate Banking Committee on Tuesday. "If the totality of the data were to indicate that faster tightening is warranted, we would be prepared to increase the pace of rate hikes."
While Powell didn't specify how high he thinks rates will ultimately go, he cited data showing that inflation has reversed the deceleration demonstrated late last year. The consumer price index rose 0.5% in January, translating to an annual gain of 6.4%. Economists surveyed by Dow Jones had expected increases of 0.4% and 6.2%, respectively.
Powell's comments suggest that the peak level of the federal funds rate will likely be higher than the U.S. central bank had previously indicated and that January's less aggressive 25 basis point rate increase may not be a sign of a less aggressive Fed (as analysts previously believed).
With the Fed signaling that it could continue to raise interest rates at an aggressive clip, it will be important for companies to have ample free cash flow. Free cash flow is the cash left over after a company has paid expenses, interest, taxes, and long-term investments. It is used to buy back stocks, pay dividends, or participate in mergers and acquisitions.
FCF Advisors specializes in free cash flow investment strategies, primarily through its Free Cash Flow Quality Model. They have been focused on this factor since 2011 and are specialized in multi-factor fundamental analysis grounded in decades of research. Two exchange traded funds that FCF Advisors offers are the FCF US Quality ETF (TTAC C+) and the FCF International Quality ETF (TTAI C).
TTAC aims to outperform the Russell 3000 through a fundamentals-driven investment process that selects about 150 stocks based on free cash flow strength. Its holdings are then weighted by a modified market-cap log transformation, allowing increased exposure to companies with the strongest proprietary rankings.
TTAI, meanwhile, aims to outperform the MSCI All Country World Index ex the U.S. through an active investment process. A quant model is used to rank stocks based on proprietary measures of free cash flow. Highly leveraged firms that incur debt to buy back shares, or don't satisfy ESG criteria, are screened out. Roughly 150 of the highest-ranked stocks are selected and then weighted on a modified market-cap basis that factors in free cash flow and log transformation.
Both ETF portfolios will also be rated with an ESG score, excluding companies with low ESG ratings. Firms with an extreme rise in share count and increase in leverage are excluded.
For more news, information, and analysis, visit the Free Cash Flow Channel