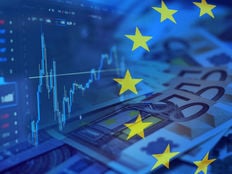 Global Diversification Channel
European equities struggled in 2022, even more than U.S. stocks for the bulk of the year. Now, Europe-based stocks are making a comeback and trading at bargain prices. In recent months, European stock markets have beaten Wall Street by 20 percentage points — the largest margin in more than 30 years.
"U.S. equities had outperformed Europe last year, but now there's definitely a value play with the international equities, in Europe in particular," said Amanda Rebello, DWS's head of Xtrackers sales, U.S. onshore.
Rebello told VettaFi at Exchange that DWS is speaking with clients about Europe's transformational phase. For example, before the war in Ukraine, Europe had "a very heavy dependence on Russia" for its oil, so its "energy sources are going to need to be changed." Plus, there's a "broader deglobalization trend" that's spurring Europe to be "building back a little bit more."
So, as Europe builds back and as its economy appears ready to sidestep a recession many believed inevitable at the start of the year, Rebello said there's a strong chance that "Europe will outperform the U.S. and also Japan as well" in 2023.
For investors wanting to add European equities exposure to their portfolios, the Xtrackers MSCI Europe Hedged Equity ETF (DBEU A) and the Xtrackers MSCI Eurozone Hedged Equity ETF (DBEZ A-) may be worth looking into.
DBEU seeks investment results that correspond generally to the performance of the MSCI Europe US Dollar Hedged Index. The currency-hedged ETF seeks to provide a pure and balanced exposure to European equities while mitigating the effects of fluctuations between the U.S. dollar and selected non-U.S. currencies.
Per the fund's fact sheet: "Investors may be unaware of a 'hidden risk' to their portfolios — currency exposure — that can significantly impact performance. To help mitigate currency risk and potentially benefit from the growth opportunities provided by the stocks of 15 developed European nations, consider a currency-hedged exchange-traded fund" like DBEU.
DBEZ, meanwhile, seeks investment results that correspond generally to the performance of the MSCI EMU IMI U.S. Dollar Hedged Index, which seeks access to Eurozone equities while potentially mitigating against currency fluctuations between the U.S. dollar and the euro.
"With active central banks, currency fluctuations are very prevalent in today's market," according to DBEZ's fact sheet. "These fluctuations can lead international investors to take on additional currency risk — the potential for diminished returns as foreign currencies move against the U.S. dollar."
Both ETFs have an expense ratio of 0.45%.
For more news, information, and analysis, visit the Global Diversification Channel.