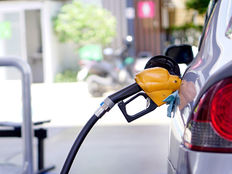 Global Diversification Channel
Inflation looks to be slowing down. The Labor Department's consumer price index reported that consumer prices in December rose 6.5% from a year earlier, in line with Dow Jones' estimate. This is down from 7.1% in November and a high of 9.1% in June. Consumer prices fell 0.1% from November, the first decline since May 2020. Last month's rise in inflation marks the slowest annual gain since October 2021. The biggest driver of the monthly decline? A precipitous drop in gas prices.
After soaring to more than $5 a gallon last year, gasoline prices fell 9.4% for the month and are now down 1.5% from a year ago. The national average price of regular unleaded gas was $3.27 a gallon on Thursday, down around 50 cents a gallon from mid-November, according to energy data and analytics firm OPIS. Gas prices peaked at $5.02 a gallon in mid-June.
"Logistics prices have also slowed materially, shipping costs are back to where they were pre-COVID," Jake Oubina, senior economist at Piper Sandler, told the Wall Street Journal. "The alleviation on the cost side is creating the wherewithal to discount more aggressively as we head into 2023."
This should have major implications for the Xtrackers Russell 1000 US QARP ETF (QARP B+), which has exposure to gas companies like Exxon Mobil, Chevron, and ConocoPhillips, all of which saw their stocks rally following the release of the latest Consumer Price Index.
QARP seeks investment results that correspond generally to the performance, before fees and expenses, of the Russell 1000 2Qual/Val 5% Capped Factor Index, a multi-factor index designed to capture exposure to large-cap U.S. equities that exhibit strong quality and value factor characteristics.
The fund aims to identify companies that have strong quality scores relative to their peers and to also look at the value scores of the securities, to avoid those quality companies that are potentially overpriced. QARP has an expense ratio of 0.19%.
For more news, information, and analysis, visit the Global Diversification Channel.