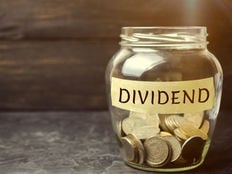 Global Diversification Channel
While the S&P 500 is up 5% year-to-date, the index lost more than 18% in 2022. And even though inflation has come down from its 9.1% peak in June, prices are still high, which means that the Federal Reserve will likely continue raising interest rates. In such an environment, investors are looking for income. In fact, Amanda Rebello, DWS's head of Xtrackers sales, U.S. onshore, told VettaFi at Exchange that income is a top concern for clients.
"The number one conversation I'm having with clients at the moment is about income," Rebello said. "Especially given where the risk-free rate is, if you're taking risk into a portfolio with equities, for example, it's going to have to work just a little bit harder than it has done historically."
In a low-yielding interest rate environment, investors searching for additional sources of income may consider a high-dividend yield approach. High-dividend yielding strategies seek exposure to companies with higher-than-average dividend yields relative to their market cap-weighted counterparts with the goal of capital preservation and potential long-term capital appreciation.
The (HDEF A-) gives investors exposure to high-quality international equities across developed market countries (ex. the U.S. and Canada), and provide an alternative, potentially reliable income stream. The fund seeks investment results that correspond generally to the performance, before fees and expenses, of the MSCI EAFE High Dividend Yield Index.
HDEF has about 112 securities. Its top holdings as of Feb. 21 were BHP Billiton (with a weighting of 5.15%), Unilever PLC (4.86%), and Novartis AG (4.63%).
Rebello explained that the dividend yield for HDEF was 5.2%, which is "quite a boost versus domestic equities," which typically yield about 1.7%. "So, that's almost four times as much," she added.
For investors with a home bias, the (SNPD B+) provides exposure to U.S. equity investment styles with ESG-screened U.S. dividend-oriented equities. SNPD seeks investment results that correspond generally to the performance, before fees and expenses, of the S&P ESG High Yield Dividend Aristocrats Index, which measures the performance of constituents from the S&P High Yield Dividend Aristocrats Index that meet certain ESG criteria.
The S&P High Yield Dividend Aristocrats Index measures the performance of companies within the S&P Composite 1500 Index that have followed a policy of consistently increasing dividends every year for at least 20 years.
SNPD is yielding about 2.7%, "so you're still getting a one point uplift versus the S&P 500 with quality dividends," Rebello said.
For more news, information, and analysis, visit the Global Diversification Channel.