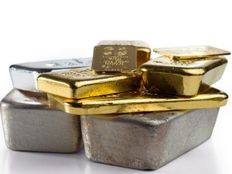 Gold/Silver/Critical Minerals Channel
Gold and silver are up higher early in the new year on the expectation that the U.S. Federal Reserve will slow down the pace of its rate hikes. Both precious metals hope to build off that early strength as long as macro and micro economic conditions remain favorable.
"Fed remains the focus. The market is of the view that the Fed's rate-hike cycle is slowing and may come to an end soon, which is helping gold," said Ilya Spivak, head of global macro at Tastylive.
"Prices are seeing good support around the $1,900-$1,920 levels," Spivak added. "The next key level of resistance will be around $1,970."
Investors looking to diversify their portfolios can consider the — PHYS provides an enhanced physical bullion structure, offering the ease of purchase and sale that comes with being traded on an exchange. PHYS exclusively invests in London Good Delivery (LGD) physical gold bullion, held in custody by the Royal Canadian Mint, with no levered financial institution getting between unit holders and the trust itself.
As opposed to paying full price for gold bars, PHYS gives investors easy diversification by purchasing shares of PHYS on a regulated exchange — the New York Stock Exchange and the Toronto Stock Exchange. This also gives PHYS a liquidity advantage over physical gold bullion bars, allowing for the easy sale and/or purchase of gold assets.
Certain investors can also take advantage of certain tax benefits associated with PHYS. This could be of benefit to U.S. investors looking to minimize their tax bite for 2023.
"The Trust offers a potential tax advantage for certain non-corporate U.S. investors," Sprott noted on its product website. "Gains realized on the sale of the Trust's units can be taxed at a capital gains rate of 15%/20% versus the 28% collectibles rate applied to most precious metals ETFs, coins and bars."
Green Energy Adoption Sweetens Silver Demand
The world continues to move towards reducing its carbon footprint by investing more in clean energy sources. This could sweeten silver's demand as a utility metal for building solar panels and electric car batteries, providing a catalyst for more price increases.
"The growing adoption of green energy sources continues to favor fabrication demand for silver … Silver bar and coin demand continued to be high," ANZ said in a note. "We expect silver to perform well, in tandem with gold, as investors look for cheaper alternatives to gold."
Investors looking to build off this demand for silver can consider the . PSLV is a closed-end trust that invests in unencumbered and fully allocated LGD silver bars, providing a secure, convenient, and exchange traded investment alternative for investors who want to hold physical silver easily and efficiently.
---
Content continues below advertisement