Gold/Silver/Critical Minerals Channel
In this edition of the top-performing ETFs rundown, metals and commodities ETFs both took leading positions. Specifically, those metals and commodities appear related to the ongoing global transition to renewable energy sources. ETFs focused explicitly on energy as well as palladium, gas, and uranium all led based on one-week returns.
The (URNJ C+) took one of those top spots. URNJ tracks the Nasdaq Sprott Junior Uranium Miners Index for an 80 basis point (bps) fee. The metals ETF returned 4.3% for the week, finishing in fourth place among all ETFs, per LOGICLY. Uranium has picked up some momentum, thanks to growing interest in nuclear energy not only as part of the energy transition but also due to geopolitical, Russia-related instability.
URNJ tracks small-cap uranium miners worldwide. It seeks those firms that derive at least half of their revenues from mining, exploration, development, and production of uranium. URNJ has returned 9.1% over the last three months, per VettaFi, having only launched this year.
Elsewhere, the (PALL A) also returned about 4.3%. Palladium plays an important role in fuel cells and batteries, key technologies in the electric vehicle push. PALL charges 60 bps to track the Palladium London PM Fix, having launched back in 2010. The ETF's returns have spiked over the last month despite struggling so far YTD. PALL tracks the spot price of palladium, setting it apart from the other metals and commodities ETFs in the space that only offer palladium futures.
Of course, as part of a week in which energy strategies performed well, so too did climate-related strategies. The (GRN C) led among all non-leveraged ETFs over the last week, per LOGICLY. It returned 4.7% in that time. The (KEUA ) also showed well, returning 4.2%.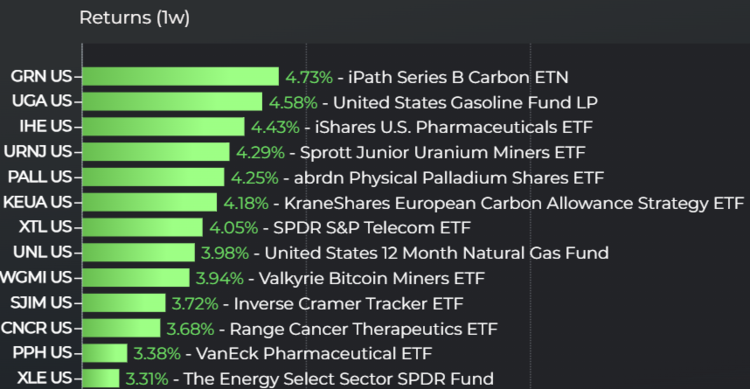 ---
Content continues below advertisement