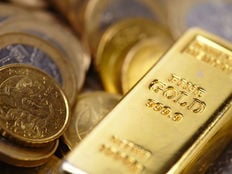 Gold/Silver/Critical Minerals Channel
As gold prices continue to retreat from its recent highs, China and India have been quick to buy the dips. This could prove to pay off in the long run if inflation and interest rate fears continue to rack the markets, upending the recent stock market rally.
"Gold continued its trend lower Tuesday, but falling prices are boosting demand out of India and China, according to analysts. Markets are shifting their focus to the FOMC meeting minutes this week after repricing Federal Reserve rate hike expectations," a Kitco News report noted.
As mentioned, that strategy could prove beneficial if Fed tightening of monetary policy stifles economic growth. As such, a safe haven flight could see assets like gold see strength and allow it to resume its previous rally.
"Gold traders in India responded by demanding a premium of $2 per troy ounce on the official local price. The week before they had been forced to grant a discount of $18 per troy ounce. The higher demand is meeting with reduced supply after gold imports were postponed in anticipation of a possible cut in import tax that did not then materialise," said Commerzbank analyst Carsten Fritsch..
2 Options When Gold Climbs
When gold prices climb, there are various options in order to get exposure to the precious metal. Furthermore, investors may want more beyond simple gold exposure, such as also attaining an environmental, social, and governance (ESG) component.
Investors who want gold exposure have options as opposed to simply buying physical gold directly. One option is the PHYS, which is a fund that provides an enhanced physical bullion structure, offering the ease of purchase and sale that comes with being traded on an exchange.
For investors who want gold exposure with ESG, they can consider the (SESG ). The fund directly sources from select gold producers that Sprott believe are leaders when it comes to ESG mining and sustainability.
SESG adds a backdoor play on gold prices, investing in ancillary services that support the gold market as opposed to the actual precious metal itself. In addition, the ESG component gives conscious investors an opportunity to allocate capital to gold miners exhibiting ESG-friendly operations.
For more news, information, and analysis, visit the Gold/Silver/Critical Minerals Channel.
---
Content continues below advertisement