Gold/Silver/Critical Minerals Channel
Higher-for-longer interest rates paired with geopolitical factors are increasing demand for gold. Costco stores are witnessing this demand for the precious metal amid a safe haven scramble.
The precious metal has been a steady performer for most of 2023. It has been rising alongside the stock market comeback after 2022's bearish run. The rush has apparently hit Costco shoppers and the company's CFO is noticing the increased demand.
"I've gotten a couple of calls that people have seen online that we've been selling one-ounce gold bars," said Costco CFO Richard Galanti per an Investopedia report. "Yes, but when we load them on the site, they're typically gone within a few hours and we limit two per member."
The increased demand solidifies the metal as a safe haven asset. This has come amid rising inflation and other factors that put downward pressure on stocks and bonds. It has been a shock absorber whenever market volatility hits, making it an almost essential component of an investor's portfolio.
"It often works as a very important safe haven benefit in a portfolio," said Joe Cavatoni, market strategist at the World Gold Council. "So when you have a moment of market risk and uncertainty, you'll see that gold will actually perform well."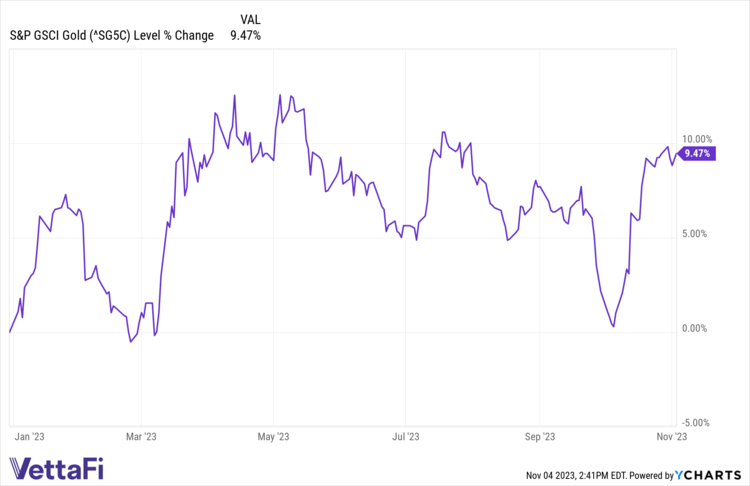 3 Gold Options
For exposure to rising prices for the yellow metal, investors can consider allocating to the PHYS. The fund provides an enhanced physical bullion structure. This structure offers the ease of purchase and sale that comes with being traded on a stock market exchange. Shares are redeemable for the precious metal bullion if the investor wants the feel of a more tangible investment.
An alternate play on these rising prices is through ancillary services like mining companies, or more specifically, the (SGDM B-). The ETF seeks investment results that correspond generally to the performance of the Solactive Gold Miners Custom Factors Index. This index tracks the performance of larger-sized mining companies on Canadian and major U.S. exchanges.
An alternative to SGDM is the more growth-oriented (SGDJ C+). The fund tracks the Solactive Junior Gold Miners Custom Factors Index, which follows the performance of the small-capitalization precious metal companies.
For more news, information, and analysis, visit the Gold/Silver/Critical Minerals Channel.
---
Content continues below advertisement