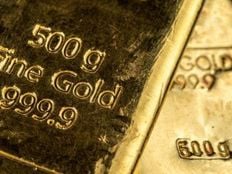 Gold/Silver/Critical Minerals Channel
The stock market had its worst year since 2008 in 2022. However, investors who held gold in their portfolios were able to effectively hedge against the downturn as the precious metal declined less than its stock market counterparts.
While the majority of assets fell in a forgettable 2022 thanks to the effects of rising global inflation, it was gold that was able to weather the storm versus equities. It was not just gold prices that were less susceptible to the downturn, but also gold miners — miners offer investors a backdoor play on gold prices with a focus on ancillary services privy to the gold market as opposed to the actual precious metal itself.
"Gold was an effective hedge in 2022. For the full year, gold bullion posted a -0.28% return, compared to a decline of 18.11% for the S&P 500 Index, an outperformance of 17.93%," wrote John Hathaway, CFA, managing partner, Sprott Inc. and senior portfolio manager, Sprott Asset Management USA, in a Sprott Gold Report. "Gold mining shares declined 8.14%, an outperformance of 9.97% relative to the S&P 500."
Gold was also able to withstand the volatility better when compared to the bond market. Bonds are typically heralded for their ability to counteract the downside in stocks, but they were also susceptible to the downturn as tightening monetary policy by the U.S. Federal Reserve meant higher interest rates — as such, the taste for bonds as a fixed income source was soured, leading to an outflux of capital from the bond market.
"U.S. Treasuries, considered a safe haven amidst adverse financial markets, fell 13.01%," Hathaway added.
More Pain Ahead in 2023?
The Sprott Gold Report notably mentioned instances throughout history where gold fell less when the stock market was at its lowest point. In a 2023 still full of unknowns, it's imperative that investors seek out gold as a proper hedge moving forward.
"We expect financial markets to continue to struggle in 2023," Hathaway said. "Gold and related mining shares, still severely underowned, should again demonstrate their merit as effective antidotes to ongoing macroeconomic chaos by striving to deliver strong absolute and relative performance."
That said, consider the — PHYS provides an enhanced physical bullion structure, offering the ease of purchase and sale that comes with being traded on an exchange. PHYS exclusively invests in London Good Delivery ("LGD") physical gold bullion, held in custody by the Royal Canadian Mint, with no levered financial institution getting between unitholders and the trust itself.
For more news, information, and strategy, visit the Gold & Silver Investing Channel.
---
Content continues below advertisement