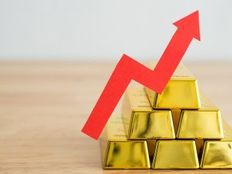 Gold/Silver/Critical Minerals Channel
In fact, some market experts are already seeing the early signs that point to upside. With the U.S. Federal Reserve decreasing the pace of its rate hikes, it's already feeding into a weaker dollar, and thus planting the seeds to sprout higher gold prices.
This potential strength is already evident in gold prices near the end of 2022. As mentioned, the capital markets are widely expecting that rate hikes will lessen to a greater degree in 2023.
"Gold 'noticeably' appreciated by about $200 an ounce from November to the end of last year, and continued that trend in the first few days of January 2023, says Edmund Moy, a former director of the U.S. Mint," a said.
Even if rate hikes were to continue at the same pace as 2022, the risk of a recession increases, which only increases a demand for gold. As such, gold will maintain its safe haven status even if conditions don't improve for the betterment of the U.S. economy.
"In general, we are looking for a price friendly 2023 supported by recession and stock market valuation risks — an eventual peak in central bank rates combined with the prospect of a weaker dollar and inflation not returning to the expected sub-3% level by year-end — all adding support," said Ole Hansen, head of commodity strategy at Saxo Bank.
2 Ways to Play Upside in Gold Prices
Investors who want gold exposure similar to holding physical gold can opt for an easier strategy via the . The trust is an ideal way for investors to get gold exposure without the storage tasks associated with physical gold.
PHYS provides an enhanced physical bullion structure, offering the ease of purchase and sale that comes with being traded on an exchange. PHYS exclusively invests in London Good Delivery ("LGD") physical gold bullion, held in custody by the Royal Canadian Mint, with no levered financial institution getting between unit holders and the trust.
An alternate way to get gold exposure is via miners. As demand for gold increases, the potential for ancillary services that support gold (i.e. gold mining) also increases.
That said, investors may want to consider the . SGDM tracks the Solactive Gold Miners Custom Factors Index, providing exposure to value using a transparent, rules-based methodology that is designed to emphasize larger-sized gold companies with the highest revenue growth, free cash flow yield, and the lowest long-term debt to equity.
---
Content continues below advertisement