Gold/Silver/Critical Minerals Channel
Now may be the time to get gold exposure, especially if history repeats itself. The precious metal could offer investors a discount at current prices before an eventual run higher.
"Historically, the price of gold is usually lowest in January before ticking up in February," CBS News reported. "The biggest price drops, traditionally, occur in certain months like March, June and October."
Stubborn inflation has been pushing the metal's prices lower for most of the year, but the precious metal is still up about 13% within the past 12 months. As mentioned, prospective buyers of the precious metal have history on their side if they're looking for exposure at the current prices.
"Gold prices are lower currently but if history repeats itself (and it often does with gold), prices will tick back up again in the new year," CBS added. "This makes gold particularly attractive for investors now."
While fluctuating yellow metal prices can offer short-term trading opportunities, the precious metal is still a prime option as a safe haven when other assets like stocks or bonds are on the downside.
"But the potential to buy low and sell high isn't the only reason why you may want to get involved in gold now," CBS said further. "It can also serve as a portfolio protector (in the right amount), no matter your age or long-term financial goals."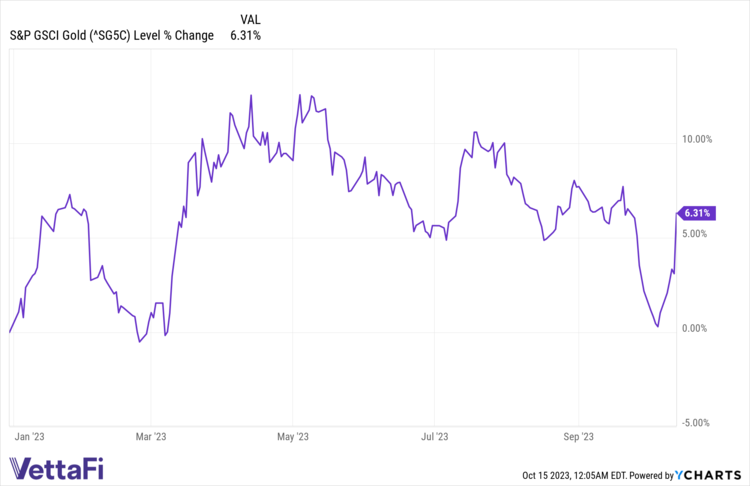 2 Options for Gold Exposure
The yellow metal funds can offer investors easy access for portfolio inclusion. Those who want this precious metal bullion exposure without the storage requirements can opt for the PHYS.
PHYS provides an enhanced physical bullion structure, offering the ease of purchase and sale that comes with being traded on an exchange. As mentioned, the fund provides exposure to the precious metal without the logistical challenges of storing it. However, shares are redeemable for physical bullion if the investor chooses, so the option of tangible exposure to the preciuos metal is always on the table.
An alternate play on the yellow metal's prices is via ancillary services like mining, which offers opportunities in the (SGDM B-). The fund seeks investment results that correspond generally to the performance of the Solactive Gold Miners Custom Factors Index. This index tracks the performance of larger-sized yellow metal companies on Canadian and major U.S. exchanges.
For more news, information, and analysis, visit the Gold/Silver/Critical Minerals Channel.
---
Content continues below advertisement