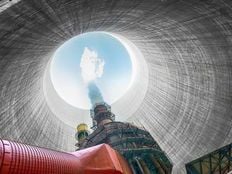 Gold/Silver/Critical Minerals Channel
The global push towards carbon neutrality is making nations revisit nuclear energy as an alternative energy source. This offers a play on uranium exposure via funds like the (URNM ).
Russia's invasion of Ukraine induced a spike in uranium prices in the first half of 2022. Uranium was just one of various commodities that spiked last year, confirming the impact of geopolitical factors in commodity prices.
"A continuous flow of endorsements from global governments, as well as persistent concerns about tight supplies due to Russia's war on Ukraine bolstered uranium sentiment in 2022, sending the stock price surging from as low as US$43/a pound to 11-year highs of US$64/lb," a Stockhead article said.
The backing of governments can have a profound impact on the price of uranium. With more countries getting on board with nuclear energy as a viable energy source, uranium can offer investors a tremendous growth opportunity.
"Japan announced its plan to restart 17 nuclear power plants in a bid to reach net-zero carbon emissions by 2050, the EU voted in favour to allow nuclear power plants to be marketed as sustainable investments, and for the first time there was a focus on nuclear energy at COP27 as a potential 'low emission' energy source instead of renewables," the article added.
Get Broad Uranium Exposure
URNM is a convenient way to get uranium exposure not necessarily in the metal itself, but through miners as a backdoor play. For uranium mining exposure, consider URNM, which tracks the North Shore Global Uranium Mining Index and invests in global firms that mine, develop, and produce uranium as well as those firms that hold physical uranium or uranium royalties. Selected firms devote at least 50% of assets to business operations tied to uranium.
Various holdings in different countries further support the diversification of the fund. The majority of the fund (as of January 31) is allocated into Canada, but it includes other countries, such as Kazakhstan, Australia, and the United States.
For more news, information, and analysis, visit the Gold/Silver/Critical Minerals Channel.
---
Content continues below advertisement