Gold/Silver/Critical Minerals Channel
Silver serving as a store of value as a precious metal and its industrial usage is helping buoy prices. This is despite the macroeconomic headwinds it's been facing for much of the year.
Higher interest rates have been the primary culprit for the precious metal's weakness. Those higher interest rates have been feeding into a stronger greenback. Investors could view the recent weakness as a way to get exposure to the precious metal at low prices.
"Keep in mind that higher rates have been a major factor in the silver market as of late, and rates seemingly do not want to stop climbing," wrote FX Empire analyst Christopher Lewis. "That being said, silver does have a little bit of protection in the form of industrial use, unless of course people start to focus on the idea that the economy is going to slow down."
In terms of adding a position in the precious metal, Lewis recommends a slow and steady strategy. Rather than go all-in, building a position over time is the best option. This is due to macroeconomic forces centered around interest rates continue to play out.
"As for a strategy, I'm looking to enter the market very slowly, and then add to it over the next several sessions once I do get involved," Lewis added. "All things being equal, this is a market that is about to make a bigger move, and once it does I plan on being involved, but I won't jump in with a huge position right away."
The S&P GSCI Silver index is down just over 6.5% for the year. This highlights the continued pressures of stubborn inflation and rising rates. However, the index is up almost 18% within the past year, showing a more long-term trend higher.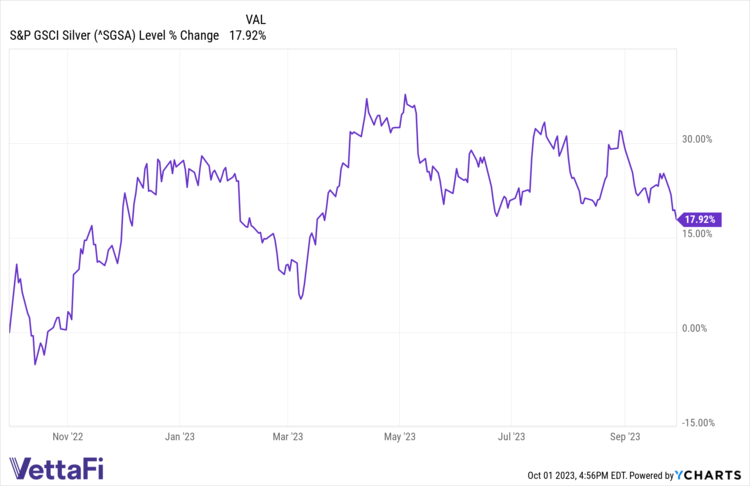 2 Silver ETF Options
investors can get silver exposure with the (PSLV ). The fund provides exposure to the precious metal without the additional hassle of storing the precious metal. It invests in unencumbered and fully allocated London Good Delivery (LGD) silver bars.
Shareholders can redeem their shares for physical bullion anywhere in the world (subject to certain minimum conditions). Redemptions of shares do not dilute the trust's exposure for remaining shareholders still invested in the fund.
An option for investors who also want to mix silver  exposure with gold is the CEF. CEF is a closed-end trust that invests in unencumbered and fully allocated physical gold and silver bullion in LGD bar form.
The goal of CEF is to provide a secure, convenient, and exchange traded investment alternative for investors who want to hold physical gold and silver without the inconvenience typical of a direct investment in physical bullion.
For more news, information, and analysis, visit the Gold/Silver/Critical Minerals Channel.
---
Content continues below advertisement