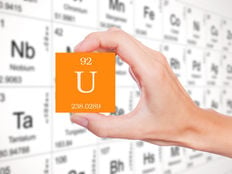 Gold/Silver/Critical Minerals Channel
The move to alternative energy sources has been putting uranium in the spotlight as part of the transition to a heavier reliance on critical minerals. Uranium continued its outperformance during the month of April, according to a Sprott report.
"The U3O8 uranium spot price gained 6.01% in April, increasing from US$50.70 to $53.74 per pound as of April 30, 2023," the report said. "Uranium has posted a healthy 11.24% year-to-date return as of April 30, 2023, and continued to show strength and diversification relative to other commodities, which declined 7.53% YTD (as measured by the BCOM Index)."
Additionally, it's not just a short-term phenomenon. Uranium price strength has been brewing for some time, making it a potential long-term growth option for investors as nuclear power gains wider acceptance.
"Over the longer term, uranium has demonstrated even greater resilience within the commodity space. For the five years ended April 30, 2023, U3O8 spot appreciated a cumulative 155.92%1 compared to 16.43% for the BCOM," the report added.
Furthermore, economic forces of supply and demand are also feeding into higher uranium prices. Add geopolitical challenges to the mix, and it only gives uranium prices another catalyst.
"The sentiment among global uranium fuel buyers is that supply remains tight, and concerns over the security of supply are not dissipating," the report said. "Utilities are facing several challenges, including the growing threat of sanctions against Russian uranium and fuel services and the potential risks of shipping uranium from the world's largest producer, Kazakhstan, via Russia."
A Uranium Mining Opportunity
Given this propensity for growth, consider the Sprott Uranium Miners ETF (URNM ), which tracks the North Shore Global Uranium Mining Index and invests in global firms that mine, develop, and produce uranium as well as those firms that hold physical uranium or uranium royalties. Selected firms devote at least 50% of assets to business operations tied to uranium.
In addition, various holdings in different countries further lend themselves to the diversification of the fund. The majority of the fund is allocated into Canada, but it includes other countries, such as Kazakhstan, Australia, and the United States. This global exposure is pertinent to getting uranium exposure, especially with more governments around the world looking to nuclear power as a viable option.
"We believe nations are competing to acquire and control access to critical materials as supplies become increasingly vital to economic competitiveness and national security," the report added. "Uranium is especially crucial in its dual role of supplying clean energy and high baseload capacity."
For more news, information, and analysis, visit Gold/Silver/Critical Minerals Channel.
---
Content continues below advertisement