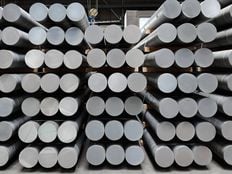 Gold/Silver/Critical Minerals Channel
The reliance on critical minerals continues to heighten. The United States and Australia are coming to terms on an agreement that will be important for meeting EV demand.
Australia plays a key role as a critical minerals supplier, particularly when it comes to lithium. Lithium is an essential mineral when it comes to creating batteries for EVs. Demand for EVs continues growing as the world tries to meet its carbon emissions. Therefore, the U.S. is well-aware that lithium is vital.
"Australia has won the backing of the United States for development of its critical minerals industry after the two countries reached an agreement to coordinate polices and investment to support the industry's growth," a Reuters report said.
As mentioned, getting Australia on board was important given their ability to supply lithium. Furthermore, this helps to de-leverage China's dominance on the lithium market, which was also a key move for the U.S.
"Australia supplies around half of the world's lithium as well as other minerals like rare earths used in batteries for electric cars and defense amid a global push to diversify supply chains away from dominant producer China," the report added.
From an investment standpoint, this confirms the industry growth of clean energy. As the world continues to transition into alternative sources of energy, demand for critical minerals will grow as well.
"The climate, critical minerals and clean energy compact is an ambitious agreement," Australian Prime Minister Anthony Albanese said, according to the Reuters report. "It will expand and diversify our clean energy supply. It'll promote the sustainable supply and processing of critical minerals and support the development of clean hydrogen, battery technologies and other clean energy products."
Capture the Critical Minerals Demand Growth in One ETF
Given the recent developments, a growth opportunity exists for the Sprott Energy Transition Materials ETF (SETM C+). SETM seeks to provide results that correspond to the total return performance of the Nasdaq Sprott Energy Transition Materials Index. The index tracks the performance of a selection of global securities in the energy transition materials industry.
The fund offers a pure-play fund to capitalize on the transition to clean energy use, setting up the increased demand for critical minerals like lithium. Mining will also be necessary for other minerals such as uranium, copper, nickel, silver, manganese, cobalt, graphite, and other rare earth elements. As such, this gives SETM further diversification of its holdings.
"Companies that are upstream in the supply chain may be well-positioned to benefit from the increased investment in the critical minerals necessary for the clean energy transition," Sprott noted on the fund's product website.
For more news, information, and analysis, visit the Gold/Silver/Critical Minerals Channel.
---
Content continues below advertisement