Gold/Silver/Critical Minerals Channel
Gold prices have been steadily falling as spring was turning into summer, but as fall gets closer, gold prices could start rallying again.
A recent Kitco Gold Survey got a pulse on what Wall Street analysts and retail investors are expecting during the first week of September. Overall, the sentiment is heavily more bullish than bearish for the precious metal.
"This week, 11 Wall Street analysts participated in the Kitco News Gold Survey," Kitco News said. "Seven experts, or 64%, expected to see higher gold prices next week, while three analysts, or 27%, predicted a drop in price. Only one analyst, or 9%, was neutral on gold for the coming week."
Retail investors who participated in the survey were slightly more bullish on gold.
"Meanwhile, 534 votes were cast in online polls. Of these, 360 respondents, or 67%, looked for gold to rise next week," Kitco News added. "Another 101, or 19%, expected it would be lower, while 73 voters, or 14%, were neutral in the near term."
As mentioned, gold prices were trending higher in the spring, but once summer was closing in near the end of May, prices started to retreat. Still, the precious metal is up over 5% for the year as investors await to see what the U.S. Federal Reserve does with interest rates.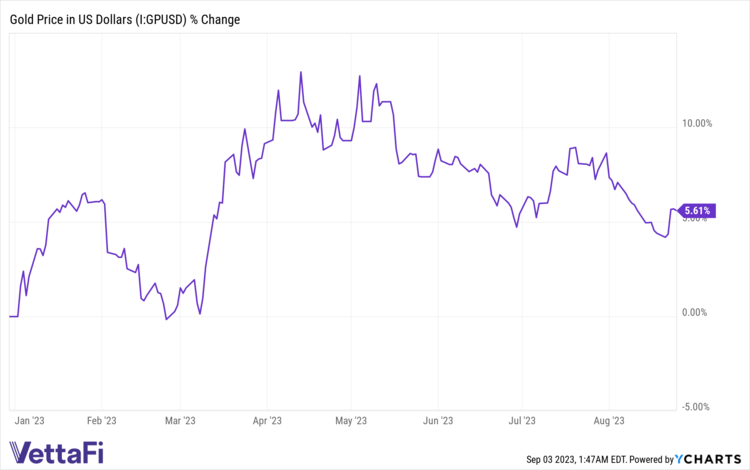 3 Ways to Get Gold Exposure
While gold is trending lower from its 2023 highs, it could be an area of value for investors to start loading up on gold positions, especially if a rally does happen before the year ends.
Investors can accomplish this by purchasing funds directly investing in gold bullion or gold miners for an indirect play. For the former, consider using the Sprott Physical Gold Trust (PHYS), which is a fund that provides an enhanced physical bullion structure, offering the ease of purchase and sale that comes with being traded on an exchange.
An alternate play on gold prices via ancillary gold services like mining offers opportunities in the (SGDM B-). The ETF seeks investment results that correspond generally to the performance of the Solactive Gold Miners Custom Factors Index. This index tracks the performance of larger-sized gold companies on Canadian and major U.S. exchanges.
Lastly, investors can also consider the (SESG ). The fund provides transparency on the provenance of its gold by sourcing gold produced from select mines in North America.
For more news, information, and analysis, visit the Gold/Silver/Critical Minerals Channel.
---
Content continues below advertisement