High Yield Corporates Fixed Income Channel
VettaFi's platforms touch advisors and investors in many ways on a daily basis. Through our digital properties, which include content on Advisor Perspectives, ETF Database, and ETF Trends, as well as near-daily webcasts, we had a whopping eight million engagements in the last three months. We and our clients can use this robust dataset, called Explorer, to understand what asset classes, categories, and areas of focus are resonating with our audience. This is helpful for spotting trends and helping asset managers understand what products are in focus.  
Starting at the asset class level, there was a relative increase in engagement in U.S. equity content and a relative decrease toward U.S. fixed income in the first two weeks of June after a prior spike. Fixed income ETF flows have been relatively strong in 2023. 
See more: Dave Nadig and Todd Rosenbluth on the Year of Fixed Income
Much of this period was after the government reached a deal on the debt ceiling. Investors correctly anticipated that the Federal Reserve would pause hiking interest rates. In the screenshot below from Explorer, note the dark green bars (U.S. equity) on the right becoming larger and the light green bars (U.S. fixed income) becoming smaller.  
Interest in U.S. Fixed Income Falling in Favor of U.S. Equities to Start June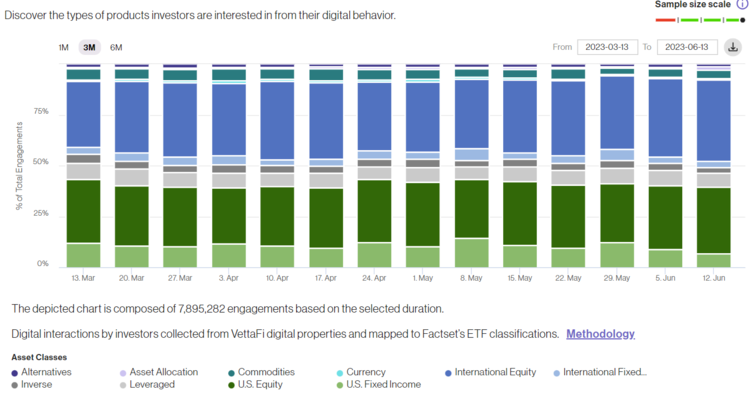 ---
Content continues below advertisement
In the last three months, we had approximately 900,000 engagements for U.S. fixed income. There has been recent volatility in the relative interest in U.S. government-Treasury products (dark green on the bottom). However, engagement in corporate broad-based products (blue-green toward the top) has remained consistently strong. 
Corporate Bond Engagement Has Been Consistently Strong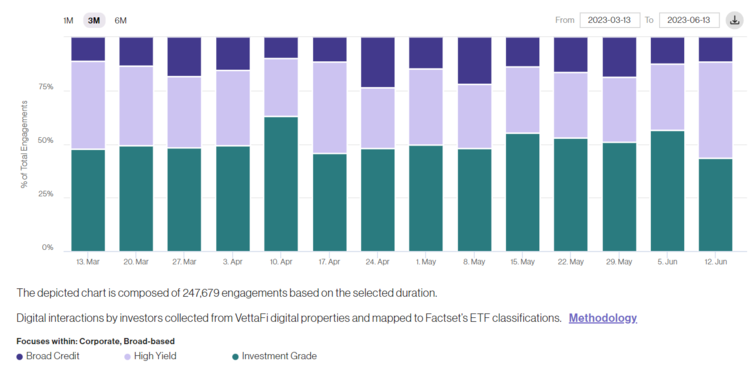 The largest high yield ETF, the (HYG B+) gathered $1.1 billion of net inflows between June 1 and June 13, per VettaFi LOGICLY data. However, this fund was not alone in garnering interest. 
The (USHY A), the (JNK A-), and the (ANGL A-) also pulled in new money this month. 
Lesser-Known High Yield ETFs to Consider 
HYG, JNK, and USHY have assets largely split between BB- and B-rated bonds, with modest exposure to CCC-rated bonds. In contrast, approximately 75% of ANGL's assets are in higher-quality BB-rated bonds.  
Advisors and investors looking to learn more about some under-the-radar funds might also want to consider the (GHYB B), the (SIHY C), and the (WFHY B). SIHY is an active ETF.
VettaFi's Explorer tool is helpful to understand the investment styles that advisors and their clients are most interested in. We plan to dive into the data on a regular basis. 
For more news, information, and analysis, visit the High Yield Corporates Channel.