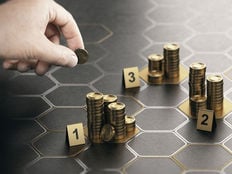 Invesco's bank ETF has seen significant inflows as the sector rebounds on upbeat earnings reports.
The (KBWB B) has seen $197 million in net flows over a one-week period, the third highest flows among Invesco's range of ETFs. KBWB is trailing only fund giants (RSP A-) and (QQQ B+) in one-week flows.
Over a four-week period, KBWB has accreted $546 million in net flows. Invesco's bank ETF is seeing a rebound in investor attention after second-quarter bank earnings. The $2 billion fund saw significant outflows in March during the banking crisis.
"It was a positive earnings season for large-cap banks," Todd Rosenbluth, head of research at VettaFi, said. "With the U.S. economy growing faster than expected, investors are increasingly confident that the second half of 2023 will be strong one."
Bank stocks have rallied over the past couple weeks after reporting upbeat second-quarter earnings and rosy outlooks for the second half. KBWB's top five holdings (BAC), (JPM), (WFC), (MS), and (GS), each weighted around 8%, are all outpacing the benchmark S&P 500 month to date.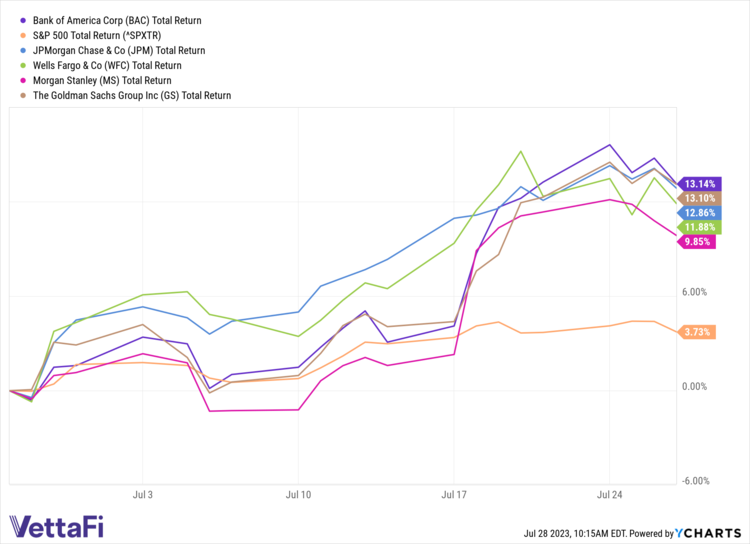 ---
Content continues below advertisement
Invesco's Bank ETF Performance
KBWB is up 12.2% over a one-month period while the benchmark S&P 500 is up 3.7%. Meanwhile, Invesco's ETFs offering more niche exposure to the financials sector (KBWR B) and (KBWP B) are up 16.7% and 4.5%, respectively.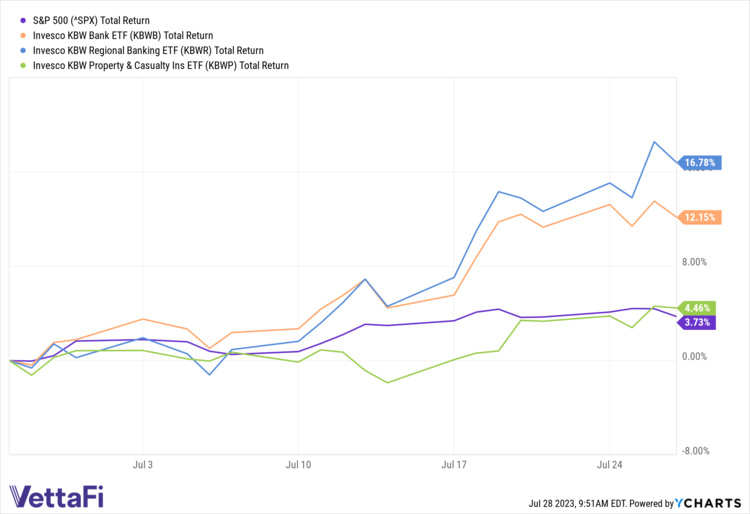 See more: Where to Get Exposure to Alphabet, Microsoft Before Earnings Reports
While KBWB offers exposure to banks, delivering targeted exposure to a unique corner of the U.S. financials sector, KBWR provides exposure down the cap spectrum to regional banks.
KBWP provides exposure to the property and casualty subsegment of the financials sector, which impressively outpaced the broader financials sector last year.
The three funds charge 35 basis points each.
For more news, information, and analysis, visit the Innovative ETFs Channel.