Many of the top-performing ETFs last month offered exposure to the energy sector.
Energy ETFs rallied tremendously in July, offsetting the declines seen during the first half. Oil and natural gas prices dramatically improved during the month, lifting by the improving economic outlook. Additionally, the recent supply cuts by OPEC+ have tightened supply and demand fundamentals.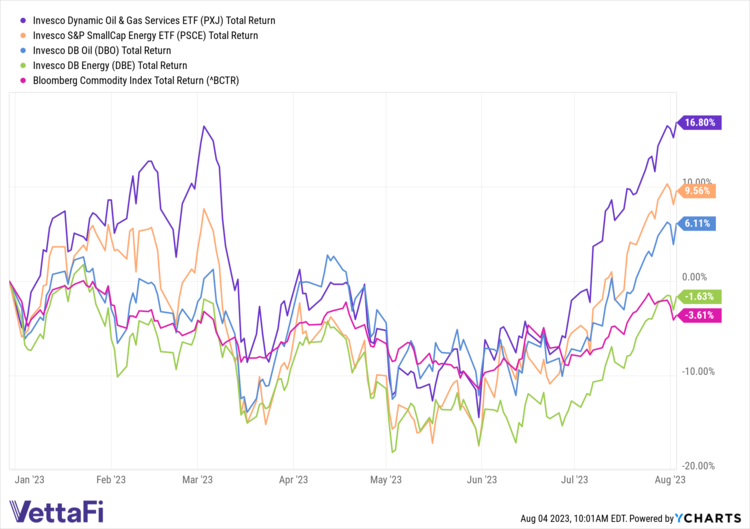 1. Invesco Dynamic Oil & Gas Services ETF (PXJ )
PXJ was Invesco's top-performing energy ETF in July, up 18.9% during the month. The fund is now up 16.8% year to date.
PXJ's underlying index comprises 30 U.S. companies that assist in the production, processing, and distribution of oil and gas. The index includes companies that are engaged in the drilling of oil and gas wells, manufacturing oil, and gas field machinery and equipment.
Additionally, companies providing services to the oil and gas industry may be included. This includes well analysis, platform and pipeline engineering and construction, logistics and transportation services, oil and gas well emergency management and geophysical data acquisition and processing.
The fund has $36 million in assets under management and charges 63 basis points.
---
Content continues below advertisement
2. Invesco S&P SmallCap Energy ETF (PSCE )
PSCE was up 16.7% in July, bringing the fund's year-to-date gains to 9.6%.
The fund offers exposure to small-cap companies in the broad energy sector. According to Invesco, these companies are engaged in the business of producing, distributing or servicing energy related products, including oil and gas exploration and production, refining, oil services, and pipelines.
PSCE has $235 million in assets and charges 29 basis points.
3. Invesco DB Oil Fund (DBO )
DBO rallied 14.5% in July and is up 6.1% year to date.
While PXJ and PSCE offer exposure to equities, DBO is designed as a way for investors to get convenient, cost-effective exposure to commodity futures. DBO's underlying index comprises futures contracts on light sweet crude oil (WTI).
The largest in the group, DBO has $257 million in assets. The fund charges 76 basis points.
4. Invesco DB Energy Fund (DBE )
DBE gained 12.8% in July, partially recouping earlier losses. The fund is down 1.6% year to date, lagging the other fund's mentions but outpacing the Bloomberg Commodity index.
Like DBO, DBE offers exposure to commodity futures and does not hold equities. However, compared to DBO, DBE offers much broader exposure to the energy sector. DBE's underlying index is composed of futures contracts on light sweet crude oil (WTI), heating oil, Brent crude oil, RBOB gasoline, and natural gas.
DBE is the priciest offering in the group, charging 77 basis points. The fund has $84 million in assets.
For more news, information, and analysis, visit the Innovative ETFs Channel.