High beta was a leader among factor indexes in May, lifted by its heavy tilt toward the information technology sector.
Uncertainty weighed heavily on U.S. markets in May. Stubborn inflation, rate hikes by the Fed, and the outcome of the debt ceiling debacle affected major indexes.
The S&P 500 gained just 0.4% during the month, while the top performing sector — information technology — rallied 9.5%. Meanwhile, the S&P 500 High Beta index — tracked by the (SPHB B+) — climbed 2.4% during the month.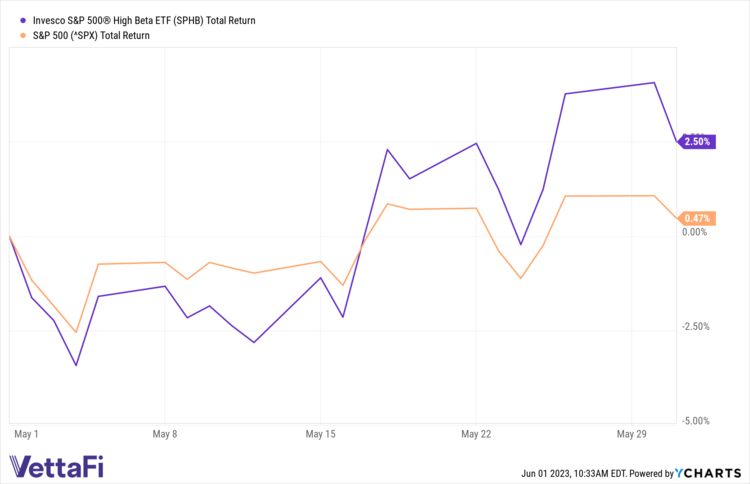 High beta offers the greatest exposure to the information technology sector among all factor indexes. The information technology sector comprises 44% of the S&P 500 High Beta index, while the benchmark S&P 500 gives the sector a 19% weight.
Following information technology strong showing in May, the sector's year-to-date lead over the S&P 500 is above 25%. The sector has reached its highest level relative to its parent index on a total return basis since September 2000, according to the S&P Dow Jones Indices daily dashboard.
Notably, the information technology sector has outperformed globally. All of the top five outperforming sectors on S&P Dow Jones Indices May 31 dashboard's "international sectors page":https://spglobal.email.streetcontxt.net/platform/al were information technology, with the U.S.-focused S&P 500 information technology placing fifth, S&P Dow Jones Indices' Benedek Vörös wrote on May 31.
Conversely, SPHB's underlying index underweights the health care sector (weighted 9% compared to benchmark's 14%). The health care sector was the biggest drag on the S&P 500's performance in May.
Year to date through the end of May, SPHB has climbed 10.7%, outpacing the S&P 500 by 100 basis points. SPHB's outperformance stands out over a three-year period. The high beta ETF has returned 86.9% while the parent index has climbed 44%, each on a total return basis.
---
Content continues below advertisement