High beta sustained its rally and handily outpaced the S&P 500 in July, underscoring the continued risk-on sentiment in the market.
U.S. stocks rallied in July, as Wall Street celebrated rosy earnings and upbeat macroeconomic updates, including softening inflation and better-than-expected second-quarter GDP. The S&P 500 climbed 3% during the month, while the S&P 500 High Beta Index, tracked by the (SPHB B+) rallied 5.5%.
Following its July gains, high beta is outpacing the benchmark by nearly 1,000 basis points year to date. High beta is up 30% as of the end of July, while the S&P 500 has climbed 20.7% during the same period.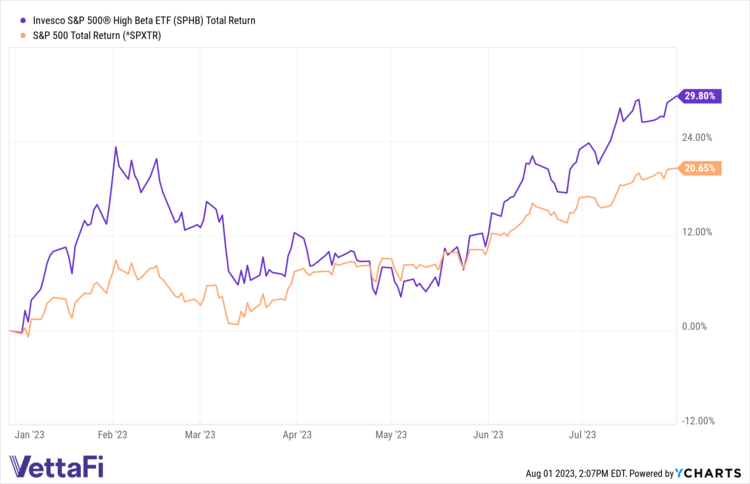 ---
Content continues below advertisement
How Sector Tilts Drive Performance
High beta has been propelled by the technology sector's year-to-date strength. High beta provides the greatest exposure to the technology sector across the factor index family. The technology sector makes up 39% of the S&P 500 High Beta index, while the benchmark gives the sector a 28% weight.
Across all the sectors, technology contributed greatest gains in July. Not far behind were the financials and communication services sectors. The sectors which were positive but contributed the least performance were real estate, utilities, and materials.
See more: Investors Move Into Invesco's Bank ETF as Sector Rallies
High beta's continued outperformance over low volatility highlights the risk-on sentiment in the market. High beta is the top performing factor year to date, trailed by growth (24.9%), and quality (20.1%).
On the other hand, the worst performing factors year to date are low volatility (0.5%) and momentum (1.7%).
In addition to overweighting information technology, high beta also overweights the consumer discretionary sector compared to the benchmark. Conversely, the high beta index is significantly underweight to healthcare and consumer staples compared to the benchmark.
For more news, information, and analysis, visit the Innovative ETFs Channel.