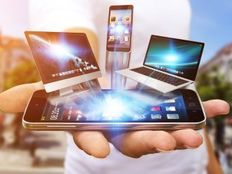 Count media ETFs and stocks among the names that were dragged lower this year by weakness in the broader communication services sector. This is perhaps a surprise when considering that this was a midterm election year, which leads to increased revenue for media companies.
With 2022's downbeat performance about to be in the rear view mirror, some market observers are bullish on the prospects of a media equity rebound in 2023. If that projection proves accurate, it could benefit the )+ — the godfather of media ETFs.
PBS, which turns 18 years old next June and follows the Dynamic Media Intellidex℠ Index, holds 30 stocks across a variety of media exposures, including internet and streaming names such as Facebook Meta Platforms (NASDAQ:META) and Netflix (NASDAQ:NFLX). The ETF also has significant exposure to old guard media by way of holdings such as Fox Corp. (NASDAQ:FOXA) and Dow component Walt Disney (NYSE:DIS). Even if a recession arrives in the new year, some PBS holdings could prove surprisingly sturdy.
"Past recessions have proved that consumers don't stop paying for relatively low-priced entertainment during economic downturns, said the executive. This could be good news for an industry that now has more high-quality, low-priced options than ever before," .
In his article, Sherman reveals an array of media industry predictions for 2023, plenty of which are relevant to PBS holdings. For example, he forecast that Netflix will make an acquisition. He added that newly returned Disney CEO Bob Iger could extend his contract beyond two years. There's also speculation that CFO Christine McCarthy played a role in former CEO Bob Chapek's ouster and that due to the board holding her in high regard, she could stick around as a possible successor to Iger.
CBS parent Paramount Global (NASDAQ:PARA), which accounts for 2.63% of the PBS portfolio, could be in for an interesting year of its own, as it's possible that Shari Redstone will shop the company in 2023 — possibly in parts or as a whole.
"Perhaps 2023 will convince her to find a buyer — or buyers. The company has different assets that could be useful to a variety of different companies. As mentioned earlier, Netflix could want Paramount Pictures," according to CNBC.
Other issues of note include the prices that media firms are willing to pay for sports broadcasting rights. ESPN parent Disney is a name to watch in that regard because it's likely that the NBA's broadcast rights will be renewed in 2023.
For more news, information, and strategy, visit the .