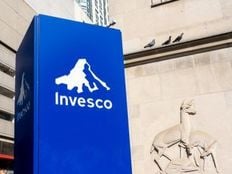 Invesco has planned ETF closures as the firm polishes its product lineup.
According to recent regulatory filings, around 20 ETFs will be impacted by the firm's product refinement. The funds will no longer accept creation orders after close of business on March 23, with the last day of trading being March 30. The liquidation payments to shareholders are expected to occur on or about April 6.
"It is prudent for asset managers to make sure their product focus matches end client demand. Despite the planned closures, Invesco is poised to continue to grow by meeting advisors' top priorities," Todd Rosenbluth, head of research at VettaFi, said.
Among the largest ETFs to close include the (ISDX B+), the (PBND B+), the (IUSS B+), and the (EWSC C+), which have $433 million, $94 million, $93 million, and $52 million in assets under management, respectively, according to ETF Database.
"Invesco has seen tremendous success in the past year within segments of their lineup, including smart beta equity products like the (RSP B+), the (SPGP A-), and the (SPLV A+) and targeted maturity bond products like the (BSCO B+) and the (BSCP B+)," Rosenbluth added.
Invesco has over $396 billion globally in ETF assets under management as of June 30, according to the firm's website. The firm's largest U.S.-domiciled funds include the uber-popular (QQQ B+), RSP, SPLV, and the (PDBC ), which have $148 billion, $35 billion, $10.6 billion, and $6.5 billion in assets, respectively.
For more news, information, and analysis, visit the Innovative ETFs Channel.