Markets pivoted sharply in early February, so investors may be surprised to learn the top-performing factor last month is still outpacing broader U.S. indexes in March.
Quality was the top performing factor in February across the S&P factor index. While all factors declined during the month, quality limited losses to 1.9%, nominally outperforming growth. The worst-performing factor during the month was pure value.
Value underperformed growth in February, and value tilts, which had dominated January's league table, were at or near the bottom in February. Quality, accessed via the (SPHQ A-), is continuing to outpace the broader S&P 500.
"During times of market and earnings uncertainty, higher quality companies with strong balance sheets and consistent earnings growth are favored by the market," Todd Rosenbluth, head of research at VettaFi, said. "SPHQ provides a diversified approach to gaining access to these large-cap securities."
See more: SPHB Maintains Leads Among S&P Factor Index Returns YTD
Since March 1, SPHQ is up 1.7% while the S&P 500 is up 0.8%, each on a total return basis. SPHQ is outpacing the S&P 500 by 59 basis points year to date as of March 27.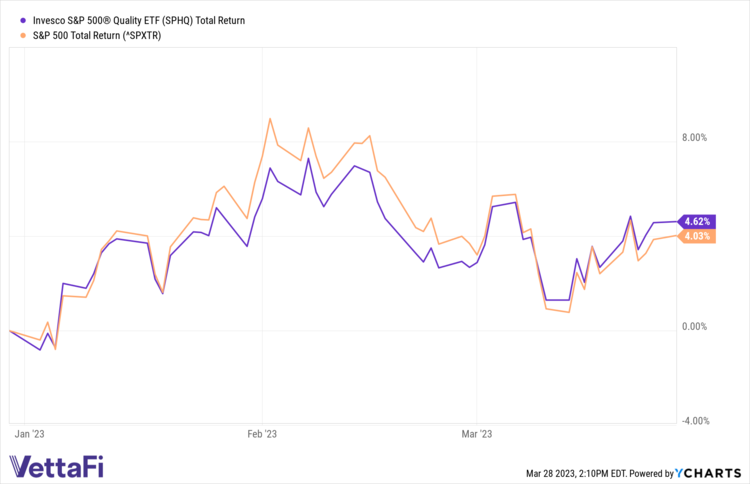 SPHQ's outperformance continues over a longer period. Looking back one year, SPHQ has declined 7.5% while the S&P 500 has declined over 10.9%.
SPHQ has seen the fourth greatest net flows year to date across Invesco's lineup of ETFs, hauling in $660 million. The fund has $4.4 billion in assets under management.
---
Content continues below advertisement
SPHQ tracks the S&P 500 Quality Index, which includes 100 companies from the S&P 500 that have impressive quality scores, which are calculated based on three fundamental measures: return on equity, accruals ratio, and financial leverage ratio.
The sector tilts that quality introduces to a portfolio, as compared to the cap-weighted S&P 500, include overweighting IT, energy, and consumer staples, and underweighting financials, consumer discretionary, and communications, as of December 30.
SPHQ charges 15 basis points.
For more news, information, and analysis, visit the Innovative ETFs Channel.