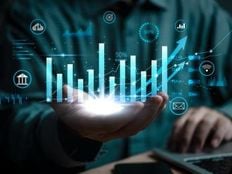 Shares of (CTLT) are surging on Friday after the contract pharmaceuticals manufacturer provided an update on its full-year outlook and past-due financials.
Catalent stock is up over 17% in early trading, making it the top performer in the S&P 500 on Friday. Meanwhile, the three major indexes are largely flat: the S&P 500 is up 0.2%, the Dow up 0.1%, and the Nasdaq at 0% for the day.
Catalent on Friday said is still unable to file its financial results from the fiscal quarter ending in March with the SEC. The company had delayed reporting its earnings twice already, prompting action from the New York Stock Exchange.
See more: Invesco's Leisure & Entertainment ETF Lifted as Hospitality Stocks Rally
Catalent said it received a notice from the NYSE that the company is not in compliance with the NYSE's continued listing requirements because Catalent did not file its Form 10-Q with the SEC. Catalent has six months to file its 10-Q with the SEC in order to regain compliance with NYSE listing standards.
During a conference call on Friday, Catalent provided an update on its full-year outlook. The company cut its full-year net revenue and profit guidance from its February forecast. However, investors celebrated the update as Catalent stock jumped after the update.
Add Exposure to Catalent With PBE
The (PBE C+) offers exposure to Catalent, which is weighted 1.33%.  PBE provides exposure to 31 U.S. biotechnology and genome companies as of May 18, according to ETF Database.
---
Content continues below advertisement
See more: Use BulletShares ETFs for Customized Fixed Income Portfolios
PBE's underlying index evaluates companies based on a variety of investment merit criteria, including price momentum, earnings momentum, quality, management action, and value, according to Invesco.
The fund has $248 million in assets under management and charges 59 basis points.
For more news, information, and analysis, visit the Innovative ETFs Channel.