With just over three weeks left in the year, the Invesco Dynamic Energy Exploration & Production ETF (PXE B) is poised to be Invesco's top-performing ETF in 2022.
PXE, which offers exposure to the exploration and production sub-sector of the domestic energy market, has returned 57.6% year to date as of November 6.
Year to date, PXE peaked on June 7, up 89.2% for the year, before oil and gas stocks tumbled. The fund quickly recouped losses and ended August with a 63.2% year to date gain. PXE peaked again on November 15, up 86.7% for the year, before siding downhill alongside the price of crude oil.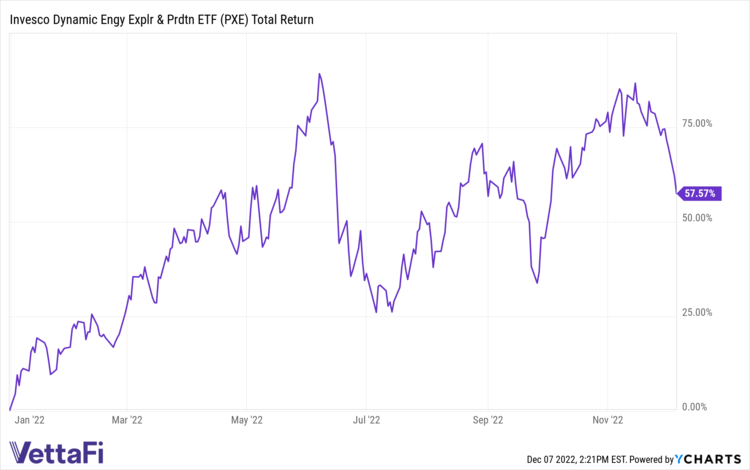 PXE's underlying index is composed of securities of 30 U.S. companies involved in the exploration and production of natural resources used to produce energy — segments that are inherently more sensitive to the rise and fall of crude oil prices.
These companies included in PXE are engaged principally in the exploration, extraction, and production of crude oil and natural gas from land-based or offshore wells. These companies include petroleum refineries that process the crude oil into finished products, such as gasoline and automotive lubricants, and companies involved in gathering and processing natural gas and manufacturing natural gas liquid.
Upstream tends to be more sensitive to commodity prices than other sub-sectors of energy. This segment comprises oil and gas producers, also called exploration and production companies, as well as oilfield services which help facilitate actual production.
Refiners make money when the demand for energy and value-added petroleum products is high, making them more resilient against declining crude oil prices; however, these companies are still sensitive to commodity prices in relation to the spread between their input costs (or crude oil) and their output (gasoline and diesel).
PXE's underlying index thoroughly evaluates companies based on a variety of investment merit criteria, including price momentum, earnings momentum, quality, management action, and value, according to Invesco.
PXE and its underlying index are rebalanced and reconstituted quarterly in February, May, August, and November. The fund's top holdings as of December 6 include Pioneer Natural Resources Co (PXD, 5.22%), Devon Energy Corp (DVN, 5.19%), EOG Resources Inc (EOG, 5.11%), Marathon Petroleum Corp (MPC, 5.09%), and Occidental Petroleum Corp (OXY, 5.07%), according to the fund's website.
---
Content continues below advertisement