Semiconductor stocks are an essential part of electronic devices, positioning them for long-term demand. Semiconductors are essential for advances in communications, computing, healthcare, military systems, transportation, and clean energy.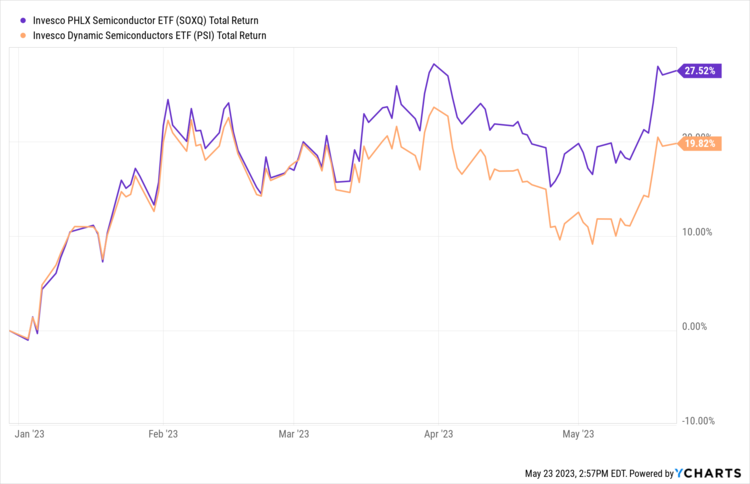 ---
Content continues below advertisement
Comparing the 2 Semiconductor ETFs
SOXQ is based on the PHLX Semiconductor Sector Index. The index measures the performance of the 30 largest U.S.-listed securities of companies engaged in the semiconductor business. Semiconductors include products such as memory chips, microprocessors, integrated circuits, and related equipment that serve a wide variety of purposes in various types of electronics, including personal household products, automobiles, and computers, among others.
SOXQ charges 19 basis points and has $111 million in assets under management.
See more: Multi-Factor ETF OMFL Outpaces Benchmarks YTD
PSI is based on the Dynamic Semiconductor Intellidex℠ Index, The index is designed to provide capital appreciation by thoroughly evaluating companies based on a variety of investment merit criteria, including price momentum, earnings momentum, quality, management action, and value. The index comprises 30 U.S. semiconductors companies.
PSI has accreted $536 million in assets since its inception in 2005. The pricier of the two semiconductor ETFs, PSI charges 56 basis points.
For more news, information, and analysis, visit the Innovative ETFs Channel.