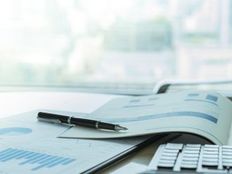 Investors may be wondering which ETFs offer the most exposure to the handful of names that are reporting earnings after the bell on Tuesday.
Key earnings reports being released after market close today include (GOOG), (MSFT), (V), and (SNAP).
Alphabet (GOOG)
Shares of Google's parent are up about 1% in midday trading ahead of the company's second-quarter earnings report. For the fourth consecutive quarter, many expect revenue to grow from a year prior.
Investors can get exposure to the stock ahead of earnings with the (PNQI C+). Alphabet is a top-five holding in PNQI, with a 7.1% weight.
---
Content continues below advertisement
Microsoft (MSFT)
Microsoft's stock is up around 1.6% in midday trading in anticipation of the company's fiscal fourth-quarter earnings. Updates pertaining to the company's expanding role in AI will be of particular focus for investors.
Microsoft is the second-largest holding in the (XLG B+), given a 12.1% weight.
For more focused exposure to companies engaged in internet-related business, the (PNQI C+) holds Microsoft. PNQI gives Microsoft a 7.6% weight, making it the third-largest holding.
Visa (V)
Shares of Visa are down less than 0.4% by Tuesday afternoon, potentially presenting an attractive entry point ahead of earnings.
Visa is weighted 4.2% in the (SPHQ A-), making it a top-10 holding. Furthermore, the security is also a top-10 holding in the (PFI B-), which gives Visa a 3.3% weight.
Snap (SNAP)