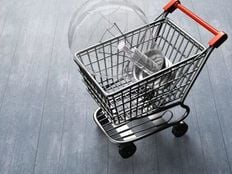 Institutional Income Strategies Channel
High yield fixed income funds saw high dispersion with yields among industries in March, driven in part by uncertainty over where markets are headed. As a result, high yield fixed income within the consumer non-cyclicals and energy experienced outperformance last month, according to BondBloxx Investment Management.
Per the fixed income specialist's monthly update, consumer non-cyclicals, which includes issuers such as Albertsons and Yum Brands, generated a 2.8% total return for March and experienced nearly no change in option-adjusted spread. The energy sector also fared well, yielding 2.1% despite experiencing modest spread widening as oil prices fell and economic growth prospects slowed.
"With uncertainty about the direction of economic growth, interest rates, and funding liquidity, there was wide variation in returns among high yield industry sectors in March, with outperformance experienced in the sectors with stronger fundamentals, such as Consumer Non-Cyclicals and Energy," according to BondBloxx.
See more: BondBloxx's Gallegos: Bonds Are Back Because Yields Are Back
BondBloxx provides sector-specific exposure to high yield fixed income through seven industry sector-specific high yield bond ETFs. Among these funds are the (XHYD ) and the (XHYE ).
XHYD targets the consumer non-cyclicals sector, including the consumer goods, discount stores, food and drug retail, restaurants, and utilities sub-sectors. XHYE, meanwhile, seeks to track the investment results of an index composed of U.S. dollar-denominated high yield corporate bonds in the energy sector. This includes issuers from the exploration and production, gas distribution, oil field equipment and services, and oil refining and marketing subsectors.
"Being able to see a different cut of different areas in fixed income is incredibly important because there aren't a lot of investors that follow more precise exposures and fixed income," said BondBloxx co-founder Joanna Gallegos on an episode of Logicly's "Coffee Break." "So, we hope that our products shine a light on that."
Launched in October of 2021 to provide precision ETF exposure for fixed income investors, Gallegos co-founded BondBloxx with ETF industry leaders Leland Clemons, Tony Kelly, Mark Miller, Brian O'Donnell, and Elya Schwartzman. The team has collectively built and launched over 350 ETFs at firms including BlackRock, JPMorgan, State Street, Northern Trust, and HSBC.
For more news, information, and analysis, visit the Institutional Income Strategies Channel.
---
Content continues below advertisement