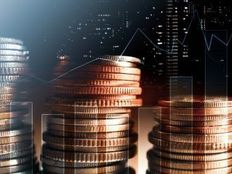 Institutional Income Strategies Channel
High yield did well across multiple sectors in the U.S., according to the BondBloxx Fixed Income Monthly Update for August. Six of the seven high yield industry sectors generated positive returns in August. Energy and healthcare experienced the best performance for the month, up 0.9% and 0.7%, respectively, in total return.
Consumer cyclicals was the only sector to generate a modest monthly loss (down 0.1% in August). However, it remains the leader among sectors in terms of total year-to-date returns. Consumer cyclicals went up 9.7% YTD, with issuers like Ford, Carnival Corp., and Royal Caribbean boosting returns for the sector.
With its strong relative performance in August, high yield energy returned 8.2% year to date. That's ahead of healthcare (returning 7.4%) and core industrials (7.2%) during the same period.
BondBloxx offers a suite of seven sector-specific high yield bond funds that provide precise, index-based exposure to the high yield asset class. The BondBloxx USD High Yield Bond Consumer Cyclicals Sector ETF (XHYC ) targets the consumer cyclicals sector. This includes the automotive, leisure, real estate development and management, department stores, and specialty retail subsectors.
Another ETF BondBloxx offers is the BondBloxx USD High Yield Bond Energy Sector ETF (XHYE ). The fund  targets the high yield energy sector. This includes the exploration and production, gas distribution, oil field equipment and services, and oil refining and marketing sub-sectors.
BondBloxx also issues the BondBloxx USD High Yield Bond Healthcare Sector ETF (XHYH ), which targets the healthcare sector. This includes the health facilities, health services, managed care, medical products, and pharmaceuticals subsectors.
---
Content continues below advertisement
One Of the More Innovative Fixed Income ETF Providers
BondBloxx was launched in October 2021 to provide precision ETF exposure for fixed income investors. Its first funds — the seven sector-specific ETFs — were launched in February 2022.
Now, BondBloxx offers 19 ETFs that span U.S. Treasuries, industry- and credit-rating-specific high yield bonds, and emerging market bonds. The firm exceeded $2 billion in assets under management in early August.
VettaFi's head of research Todd Rosenbluth called BondBloxx "one of the more innovative providers of fixed income ETFs."
"They offer advisors and investors the opportunity to target duration with risk-off government bonds," he said. "In addition, they have a suite of credit-quality-focused high yield ETFs for those willing to take on additional risk for higher rewards."
For more news, information, and analysis, visit the Institutional Income Strategies Channel.