Institutional Income Strategies Channel
While fixed income markets dipped last month, U.S. high yield led returns within the asset class. In fact, so-called junk bonds outperformed investment-grade fixed income by a wide margin.
Per BondBloxx, U.S. high yield returned 0.5% for the third quarter and 5.9% year-to-date as of September 30. Meanwhile, the Bloomberg US Aggregate Index returned -1.2% during the same period.
"Year-to-date, U.S. high yield remains the clear performance leader among fixed income," according to BondBloxx.
See more: BondBloxx: High Yield to Remain Resilient Going Into 2024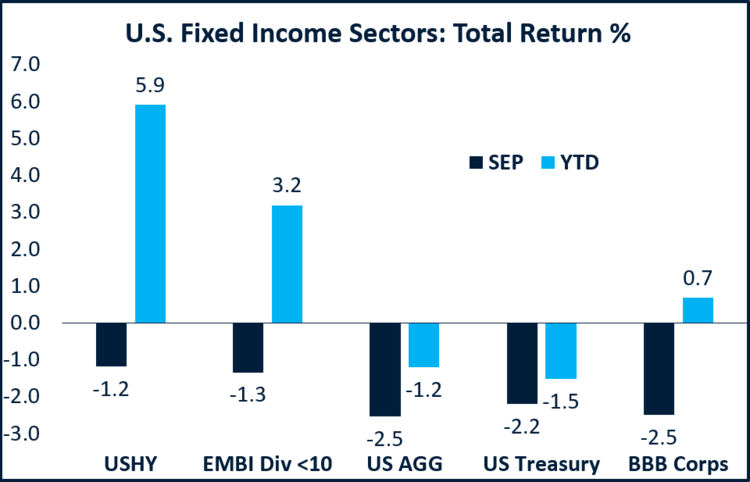 Issuances Up, Defaults Down
The asset class also saw an increase in issue volume and a decrease in defaults. New issue volume reached $24.6 billion in September, the highest level since January 2022.
There were 38 junk bonds priced during the month, with refinancing being the primary use of proceeds. Year-to-date new issue volume was $137 billion, well above last year's volume of $91 billion during this same period.
Plus, default activity dropped in September from the month before. Citing data from J.P. Morgan, the BondBloxx Fixed Income Monthly Update noted that there was only one company that defaulted, and only three completing distressed exchanges for the month.
---
Content continues below advertisement
Targeting Sector-Specific Exposure to High Yield
BondBloxx offers a suite of seven sector-specific high yield bond funds. The fixed income funds offer precise, index-based exposure to the high yield asset class. They're designed to allow investors to diversify and manage risk within the industry sector.
BondBloxx was launched in October 2021 to develop precision fixed income ETFs. Now, the issuer offers 20 funds that span U.S. Treasuries, high yield bonds, and emerging market bonds. The issuer recently crossed the $2 billion asset mark.
"BondBloxx brought innovation to the high yield bond ETF space with its initial suite of products," said Todd Rosenbluth, head of research at VettaFi.
For more news, information, and analysis, visit the Institutional Income Strategies Channel.